Any construction site is high-risk when it comes to health, safety and environment (HSE) – from hazardous building materials to heavy machinery, there are many possible causes of injury or harm. Now, as the sector navigates its way through the Covid-19 pandemic, there are even more HSE considerations for companies to take into account.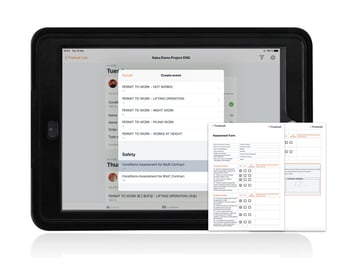 HSE inspections, already a daily occurrence on all construction sites, will be fundamental to ensuring new standards are met and workers are protected. To reinforce this approach a number of organisations and professional bodies have released guidelines to help, including the Building Construction Authority in Singapore, the European Agency for Safety and Health at Work, theConstruction Leadership Council in the UK or theDepartment of Health & Human Services in the United States.
The guidelines cover some of the following areas – all of which will be monitored through HSE inspection processes:
- Being able to monitor worker movements and know who is on site at any time – to provide an auditable trail and satisfy any HSE inspection
- Enabling social distancing where needed and avoiding close working – such as reducing the number of people in a hoist or lift at one time
- Improving general site cleanliness to reduce transmissions of all viruses – like regularly cleaning common touchpoints and offering more handwashing facilities
- Making sure there are good stocks of personal protective equipment – and that all workers have the right equipment issued to them.
Now is the perfect opportunity for companies to address their safety processes – and a key part of this will involve moving away from paper-based, manual inspections. At Finalcad, we can also help businesses get ready for the upcoming return to work, as well as taking a long-term approach to HSE, by digitalising processes and by capturing relevant data:
- Share pictures/comments of hazards through the site diary instantly before anyone is impacted
- Create a permanent digital record of HSE information to satisfy internal and external audits
- Reducing the cost and time of inspections by digitalising the HSE process
- Standardise HSE inspections and reports across all sites by creating template forms
- Secure the workflow by making sure data cannot be changed once it is inputted
But the important takeaway for construction companies here is that these guidelines should apply all the time. Even when Covid-19 isn't in the picture, putting these measures in place will do wonders for worker wellbeing and safety. Moreover, the guidelines are likely to become new industry standards, which will improve welfare across the sector; so, companies shouldn't think of them as temporary.
Find out how Finalcad can help you digitalise your HSE processes, take a more proactive approach, and build safer sites: