Paris and Boston, January 6, 2016 – FINALCAD today announced that it has been selected to receive the award for Top Performing CCS® Sales Process (International) from CustomerCentric Selling® (CCS®), as part of the company's annual CCS® Customer Showcase Awards.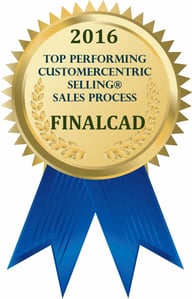 The award program recognizes some of the most outstanding sales performances from customers across several industries. FINALCAD has been achieving remarkable sales success since using the CustomerCentric Selling® methodology.
The winners for the 2016 awards include the following based on performance through 2015:
Most Consistent Use of CustomerCentric Selling®, Anonymous
Most Aligned CCS® Organization, Oseco
Best Use of CCS® in Complex Sales, Aspen Technologies and Dataiku
Top CustomerCentric Selling® Evangelist, inContact (U.S.) and Astor (International)
Top Performing CCS® Sales Process, OnShift (U.S.) and FINALCAD (International)
All of the winning companies have demonstrated the effectiveness of the CustomerCentric Selling® methodology that helps organizations:
Decrease the sales cycle
Improve sales performance and win rates
Increase revenue year-over-year
"We're honored to receive this award as a recognition of our continued effort to bring a more customer-centered approach to our sales process. The CCS® methodology has been instrumental in our recent revenue growth. It helped our average sales while selling more value and enhancing our customers' satisfaction."
Gildas Leroy, VP Sales of FINALCAD.
"It's an honor to recognize these organizations for implementing a best-in-class sales process to focus on what's important – their customer. In turn, as CCS® continues to grow, it's our customers that contribute to our success and are our biggest advocates. We strive to provide the best methodology and sales improvement services in the industry."
Frank Visgatis, President & COO of CustomerCentric Selling®
About CustomerCentric Selling® - The Sales Training Company
CustomerCentric Selling® (CCS®) specializes in world-class sales training. Providing a proven methodology for predictably improving revenue growth and sales performance has been key to the company's success since its founding in 2002. CCS® is based in Boston, with offices in Atlanta and Denver, and more than 50 certified business partners and consultants worldwide. TrainingIndustry.com has named CCS® as a Top Sales Training Company for every year since 2009. For more information, please visit www.CustomerCentric.com.