Construction projects are increasingly incorporating systems of digital sensors, intelligent machines, mobile devices, and new software applications – integrated with a central platform of Building Information Modelling (BIM). BIM identifies potential design clashes and constructibility issues at the design and engineering stage, thereby averting costly corrective rework.
BIM also makes information more transparent and accessible, enabling designers and engineers to access their project anytime, anywhere so they can be efficient and productive on the go.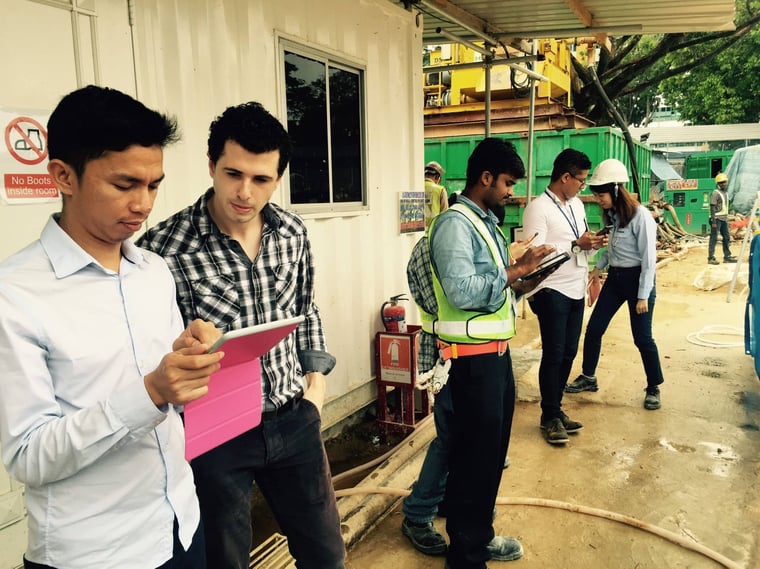 WHAT SO GOOD ABOUT BIM?
Bringing BIM models to construction site has many benefits. BIM makes it easy to access information without physically traveling on site to know what is going on. It improves communication in terms of designing or site maintenance, and fosters the innovation and creativity to aid designers and engineers to develop and construct green buildings. Real-time collection of data increases productivity by improving the flow of information between the various project stakeholders. Information normally shared once a week, on paper, is now done in real time. This also enables collaboration among staff in different departments, and helps managers meet documentation and compliance requirements on time and accurately. This reduces potential for penalties and saving time. In summary:
BIM helps to save time on daily task as well as overall project timeline
BIM helps to save money for overall project - reduce unnecessary costs
BIM enables effective communication - shorter reaction delay and quicker rectification
BIM enables real time updates
BIM allows virtual view to check presence and compliance of elements
Mobility and convenience - works great on iPad, even better on smartphone
And most importantly, BIM allows you to carry out tasks with a high level of precision
SO WHAT'S STOPPING IT?
But for many, incorporating BIM into their existing process management may seem like a daunting task. Why is this so? They are not fully embracing BIM into their existing process management due to:
Resistance to change
Risks, disruption to tested and proven proccesses
Lack of management support
Technology complexity
Simply lack of knowledge
But whoever said that integrating BIM has to be complicated?


These tools are kept simple and at the service of people, not the opposite.
"The FINALCAD app was very user friendly and is very easy to use. All the information required was already pre-uploaded onto the app."

Yip Shaw Chong, Senior Project Manager
"When we went to Finalcad we had a need that was specific to our company. Finalcad has been able to provide us with a tailor-made solution that responds perfectly to the specific characteristics of the site. "

Jean-Baptiste Descoqs, Methodical Engineer (Technical Directior)
BUT BIM IS NOT COMPLETE...
..until it is challenge against reality. Only by taking BIM onsite and freeing those working on a project from their desks, will BIM be able to empower them to spend more time viewing the construction process. Finalcad provides a two-way interface between BIM and mobile apps for the field; by extracting the right level of BIM data for the construction site and retrofitting real data from the site to enrich the digital model. Finalcad allows an investment in BIM to contribute beyond the design phase, into construction sites through maintenance and facility management phase that will benefit the entire building lifecycle.
BUT DONT JUST TAKE OUR WORD
Hear from what our clients themselves:
"We find out that BIM as process and Finalcad as software platform are good products in construction industry. We are delighted to have Finalcad redefined our quality control checks."

Atsushi Aoi, Project Manager
"Tracking of our quality control sheets has become more systematic and less tedious.
I can now focus my attention onsite where it matters."

Tey Seng Kong, Senior Project Manager
Finalcad is integrated with major BIM solutions and is a member of the buildingSMART since 2015.
Finalcad IS CREATING THE FUTURE
By making BIM what it was meant to be. It's time BIM put boots on rather than sitting in office.
Want to find out more?