Mezzoteam and Finalcad have implemented a strong integration between their platforms, enabling the automated distribution of up-to-date drawings and documents on their clients' projects. Having the latest set, at the right time is now possible, quite simply. The benefits include reduced rework risk, improved team collaboration and administrative time savings.
🗺️ Have the current set of plans
Whether the project is standard or exceptional, having the latest set of plans is a major challenge. Who has never had to launch rework, core drilling or layout changes following the use of a plan that was not up to date?
In the field, some people prefer the latest printed plan, often in A0 format... but sometimes forget to check if it is the latest version, valid for execution. Having a platform for validating and distributing plans can help, but it is not enough.
Indeed, people make mistakes, and who can boast that they have never forgotten to get the latest version of a plan or document?
🔌 A strong integration
Faced with these challenges, Mezzoteam and Finalcad have integrated their platforms in order to bring this revolution to all their customers: always having the latest set of plans, without any manual handling.
This was the prerequisite for this partnership, which takes advantage of Mezzoteam's experience in CDE and BIM and Finalcad's experience in enterprise-wide site productivity platforms. Thanks to the maturity of Mezzoteam's organisation and Finalcad One's partner API, it was possible to implement a strong integration, without the need for an intermediate storage solution, FTP or otherwise.
The integration is such that it is possible to connect the platforms seamlessly in order to activate the exchanges.

Activation is carried out in two stages:
1. Within Mezzoteam, simply activate the "Finalcad" connector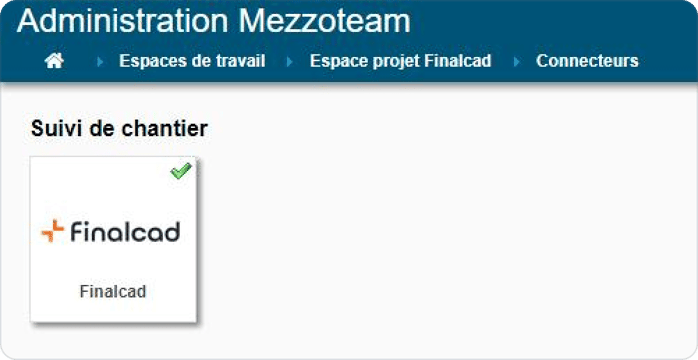 2. Copy the Finalcad project ID into Mezzoteam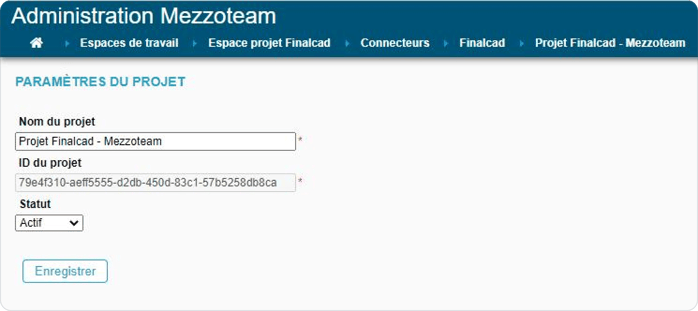 Once the connection is established, two complementary uses are possible: automated and on demand.
🔂

Automate the import or update of drawings from Mezzoteam to Finalcad
The first possibility is to set up a deployment workflow. It is this automation that ensures that the latest plans and documents are available on site, and is therefore the most important.
Workflows to Finalcad are set up by default within Mezzoteam. It is possible to modify them in order to adapt them if necessary.
Example workflow: when a "Structural works" drawing is available in a validated version, it is sent to Finalcad in the "Structural works" folder.
And because the rules are not identical between plans and documents, the associated workflows are distinct, which allows better control of the automations.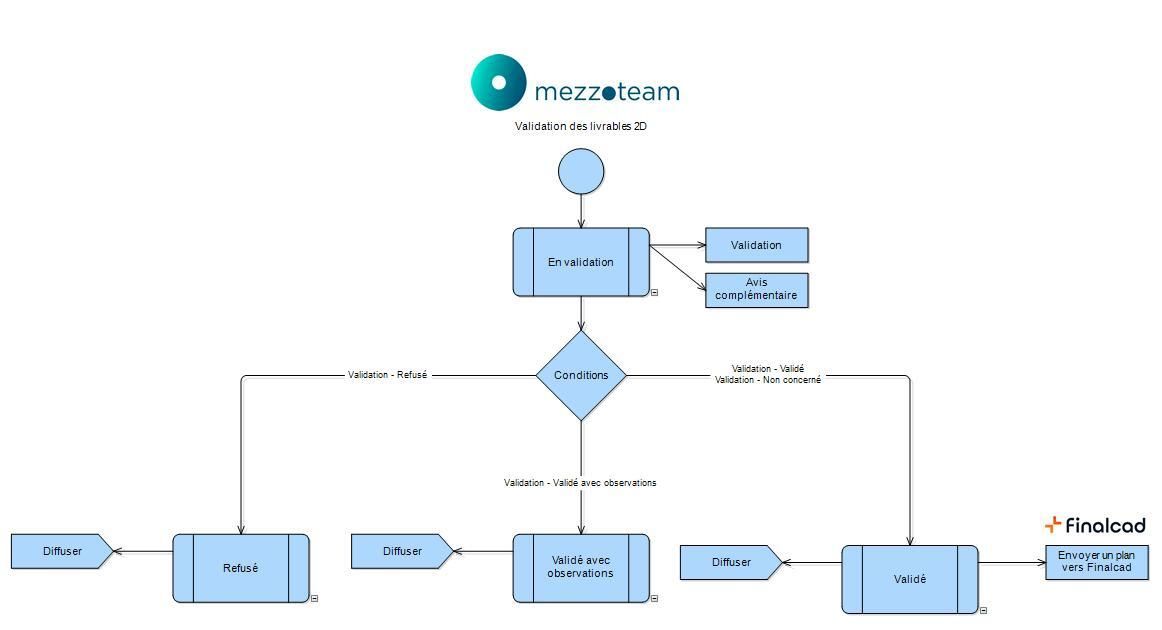 Example of an automated workflow in Mezzoteam, allowing a plan to be sent automatically
to Finalcad at the end of the validation stage.
With these few steps, it is now automated: updated drawings will be available in Finalcad One, in real time, and without any manual action!
"Our promise is the right information, available at any time in the field in Finalcad One."
Pascal Laïk, CEO of Finalcad.
🎯 With one click, send a drawing or a document from Mezzoteam to Finalcad
Because it is sometimes necessary to choose the plan or the document to be sent, it is also possible to do this with a simple click, from within Mezzoteam.
Just choose the file you want to send, click on "Send to Finalcad", and you're done.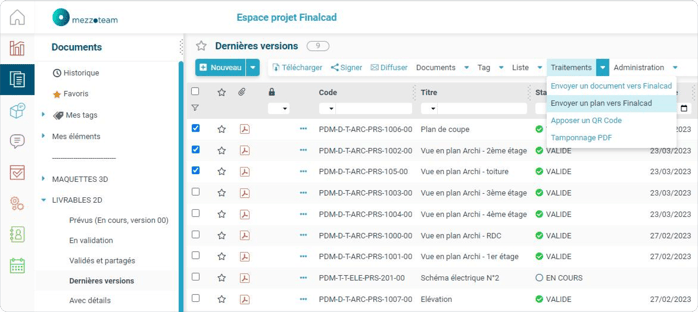 🆙

Dissemination is good, updating is better
In front of the automated publishing of plans and documents, one could feel some resistance. How can you trust a fully automated solution? Can we trust a workflow? What happens if the plan is already in Finalcad One? Will items already created on this plan, in Finalcad, be kept?
This is the good news about this integration of the Mezzoteam and Finalcad platforms: if a drawing is updated, the latest version will be presented. There are no multiple versions of a file, and Finalcad items are preserved, as well as the links to them within the Finalcad platform.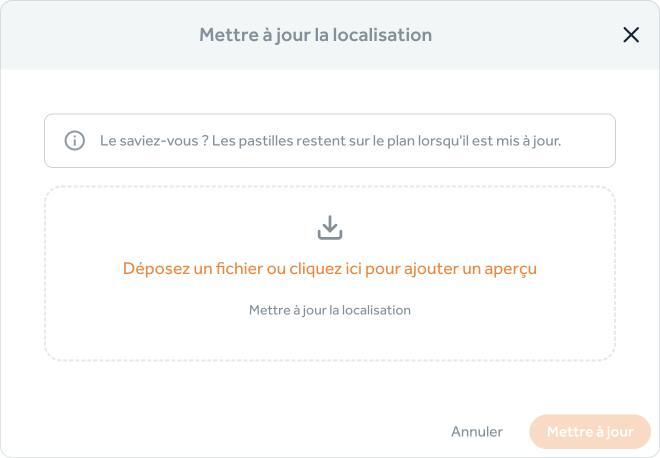 "By integrating Finalcad one with Mezzoteam, we are able to offer customers a single end-to-end solution that will help them streamline their construction projects."

Nicolas Delmas, Sales Director of Mezzoteam.
👷‍♀️

Benefits
The integration of Mezzoteam and Finalcad offers many advantages for construction projects, not least of which is that it removes the risks due to communication problems on a construction site. You no longer have to worry about whether you have the latest set of plans, it's just there.
Among the main benefits for projects, three stand out:
- Reduced risk of rework on site due to the availability of the latest plans: you can do it right the first time;
- Alignment of teams on documents and plans for better collaboration;
- Save administrative time by automating the distribution and updating of plans and documents.

This advanced platform integration provides a single, comprehensive solution for streamlining construction projects from concept to completion.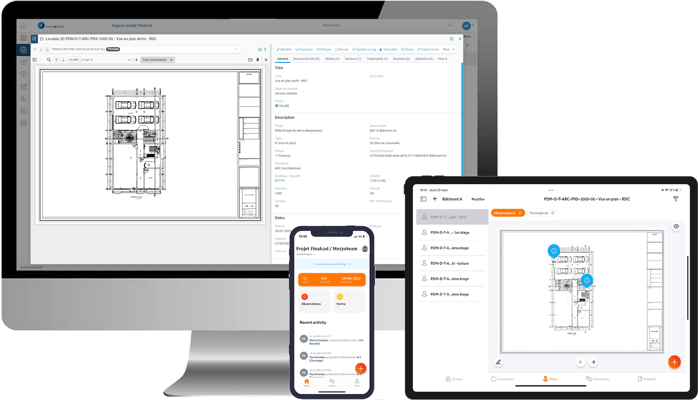 🔒

A convergence on data privacy
This partnership is the result of a real convergence between the project-centric approach of Mezzoteam and the user-centric one of Finalcad. This convergence is unique because data flows are automated via the Partner API created by Finalcad, which makes data exchanges transparent and direct, while respecting customers.
This integration is unique because it is based on transparency and proximity to customers. The partnership addresses the distinct challenges of each platform's customers, such as site management for Finalcad customers and data collection for Mezzoteam customers. Each client has specific needs and the platforms have been designed to meet these needs in an efficient and data-friendly manner.