Paris, 30 March 2023 - Finalcad, a specialist in software solutions for site monitoring in the building, energy and infrastructure sectors, and Mezzoteam, a publisher of a collaborative BIM platform for organising, processing, managing and sharing all information related to a construction project, have announced a partnership based on the interoperability of their platforms, with an objective to improve the availability of the latest version of plans for construction operators.
Through this association, the two players in the digital transformation of field processes intend to offer an integrated and complete experience to their customers, in a constantly evolving digitalization market that the Construction sector can no longer do without.
The partnership consists of the integration of Finalcad One's site management software with Mezzoteam's collaborative platform, in order to automate the management of plans and documents, thus allowing all stakeholders to have access to the latest and up-to-date information to move forward more quickly and efficiently on their projects.
In concrete terms, it is now possible to automate the import or update of a plan from Mezzoteam to Finalcad, to ensure that the teams on the ground are always working with the current set. No more manual checks and manipulations, everything is automated, and updated in real time throughout the project.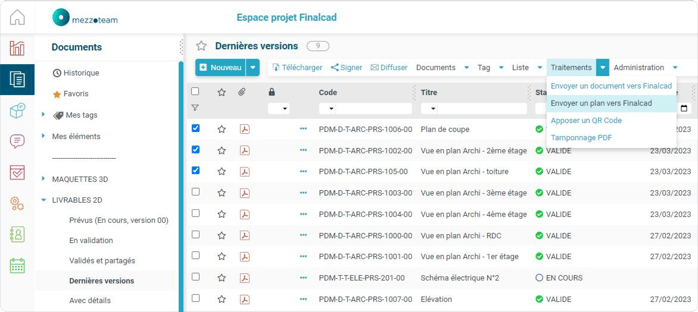 Not having the right version of plans and documents for the site professionals in the field is one of the main sources of delays and quality problems in construction projects. Through this partnership, our commitment is to finally integrate design offices and construction sites. Our promise is the right information, available at any time in the field in the Finalcad One mobile application. We are delighted to be working with Mezzoteam, whose expertise and reputation for excellence is well established. This partnership allows us to provide our clients with a complete solution for managing their construction projects. We are confident that this is just the beginning of a long and fruitful collaboration.

Pascal Laïk, CEO of Finalcad.
Working with Finalcad seemed natural and relevant in view of the challenges of digitalisation in the construction sector and the complementary nature of our two solutions. By integrating with each other, we are able to offer clients a unique end-to-end solution that will help them streamline their construction projects.

Nicolas Delmas, Sales Director of Mezzoteam.
---
About Finalcad
Finalcad has tasked itself with optimising the field experience of employees in the construction, infrastructure and energy sectors. Using Finalcad helps to cut costs, improve safety, support continuous improvement and enhance efficiency through process digitization. In the last 10 years, Finalcad has supported more than 30,000 construction projects in 35 countries.

About Mezzoteam
Mezzoteam is a Common Data Environment that enables thousands of users in over 50 countries to collaborate effectively throughout the construction and operation of structures. As each project is unique, the Mezzoteam solution can be adapted to all situations and needs (cloud or on-premises, standard or custom settings, etc.).
---
Media contact:

David Vauthrin
Chief Marketing Officer, Finalcad