In 2022 and thanks to the feedback from our users, the Finalcad team have worked hard to bring you relevant product innovations. Here is a look back at a year rich in structuring evolutions and in many ways, unique in their kind.
Review of Finalcad One improvements in 2022
The Finalcad teams have been working tirelessly in 2022 to complete the Finalcad One platform with the best feedback from its users. Here is a summary of the results.
Key figures:
• 2,400 customer requests created

• 100+ delivered features

• 99% bug-free on mobile, thanks to the priority 1 treatment
🗺️ New possibilities for the use of plans on site
Is it still necessary to introduce the use of plans in construction? This is the main thing. Its uses have been developed with the management of PDF layers, automatic cutting enabled by the AI called Smart Zoning, and with a free BIM viewer on the web and mobile, working with both ifc files and AutoDesk Revit.

For those whose drawings are cut via the Finalcad One plugins for AutoCAD and Revit, you have seen the arrival of clickable drawings, with optimised mobile and especially tablet navigation, allowing you to follow your physical movements as closely as possible, from one room to another.

Finally, collaboration on drawings was highlighted, with the arrival of tools for annotating vector drawings, which also allow dimensions to be taken directly in Finalcad One!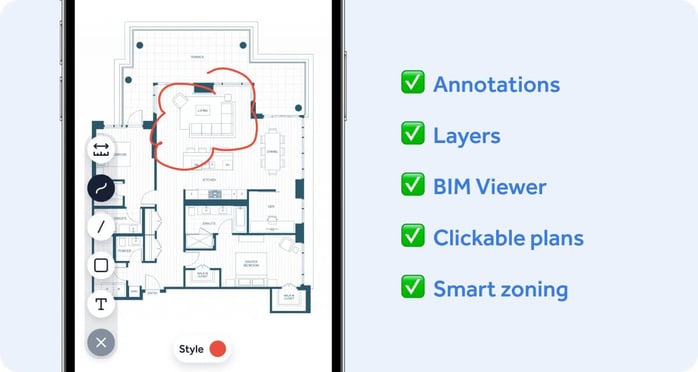 🎛️ Module customisation, geolocation, annotations: enrich your items
Goodbye "observations" and "forms", we now talk about "items"! Defect management, inspections, safety visits, orders... and much more use cases now possible in Finalcad One, the construction site monitoring platform. The great novelty of 2022 will remain the creation of custom modules, allowing you to adapt Finalcad One to your uses. If some of them remain on the now classic defect management, the uses are very varied, and some even have up to 20 different modules, in parallel, on one and the same construction site, making Finalcad One their "digital site office".

In order to meet your needs, it was necessary to enrich the data available for these items. We have therefore added viewing on Google Maps or Apple Maps, enabled sharing and annotation of geolocation, and the possibility of integrating map extracts.

Ergonomics is vital, especially when you have hundreds or thousands of observations to create. We have allowed three different ways of creating observations on the plans, so that everyone can find their way around; we have pushed ergonomics to the point where only one tap is needed to create an observation!

Finally, you can quickly review the items, and change the main properties with a simple long tap, with the quick actions on the item lists.

And to facilitate collaboration, you can link members to their companies, so that they are automatically assigned the necessary follow-ups.



⬆️📋 Your control plans in a few clicks thanks to the mass import of forms via Excel file
Are you checking all the piles, all the access controls or the sanitary facilities? It is not uncommon to have hundreds, and sometimes thousands of forms to integrate into the project, before proceeding with the inspection and control plan.

Good news, importing thousands of forms is now possible on Finalcad One, with a few clicks thanks to easy to use drop down lists!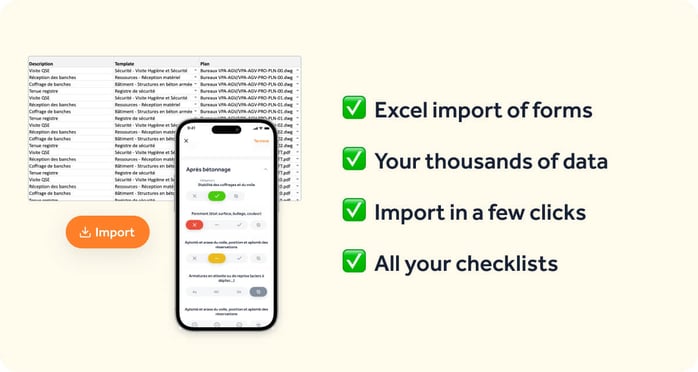 🗓️ Phase management
The items are varied: observations, forms, tasks, closure orders, controls, etc., and they are different for each phase of the project. In building, for example, the following phases are typically distinguished:
• Structural work
• Secondary works
• Technical trades
• Handover
• Defect Liability Period

Both from an operational and a contractual point of view, it is necessary to be able to separate these phases, and to be able to edit the appropriate reports. "Can you get me the list of compliant controls in the structural work phase please?" - This is possible in Finalcad One.

Fully customisable, the phases follow the organisation of your project, and in particular allow a more precise progress report on the work sites.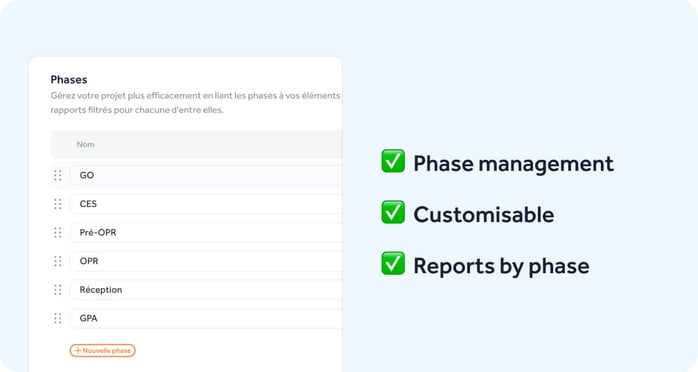 📸 The best of photos and video for your site monitoring
Because a picture speaks a thousand words, you use photos in Finalcad One on a regular basis. In 2022, we added many options for annotating photos, managing camera zoom, or blurring faces and texts.

And because sometimes you need a visual or audio recording, for a leak for example, we have added on-site video recording to the Finalcad One mobile application.
📈 Reports & Analytics
Management of site reports
We may have gone digital, but there are still reports to be produced. For the client, for the subcontractors... And it is sometimes necessary to finely customise the content. The report generation engine has been improved with the management of advanced filters, the setting up of multiple periodic reports, while allowing the edition of one report per company. And they are manageable both from the web and from the mobile.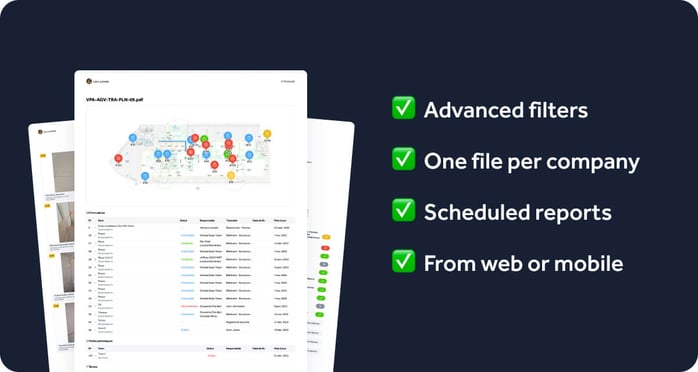 Analytics for construction
In order to create a real digital site office, many of you have asked us to customise your mobile dashboard. You can now choose the key indicator for each module, in order to follow for example:
• Unassigned tasks
• Non-compliant controls
• The overdue reserves
• Etc.

And because an overall view is essential for monitoring trends and adapting follow-up, each module has its own dashboard, with a breakdown by status, by model and by company.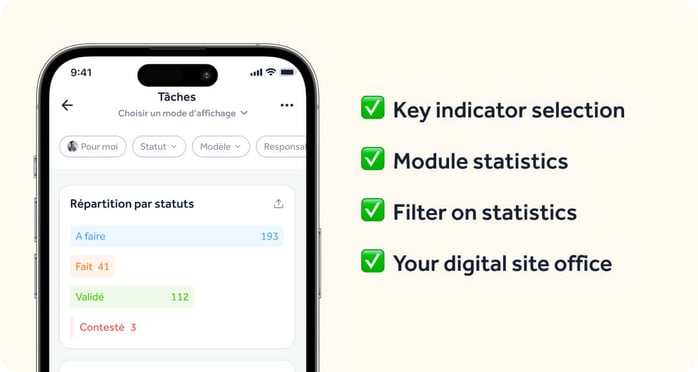 🏢 Deployment management
Executives, IT Managers and Digital Managers in construction companies know that they need a solution that will help them succeed and accelerate their digital transformation. The platform offers a full range of features for this, including workspace management, user management, template management, automated user onboarding and onboarding via domain name activation, and an open API for easy integration and automation management.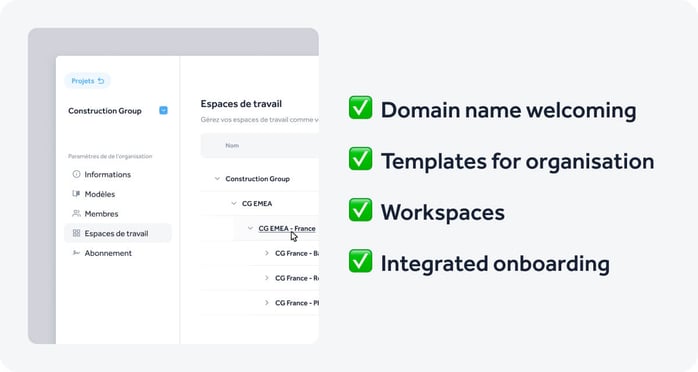 🔌 Plug-ins AutoCAD et Revit
Bringing teams closer together is one of the major axes that reinforces the quality of projects, their speed of execution and the optimisation of their performance. For this purpose, Finalcad One has been completed in order to equip users in their working environment.

The Finalcad One CAD plug-in, which already allows the cutting of drawings in Autodesk AutoCAD, makes the preparation of clickable drawings accessible to everyone, independently. Moreover, it facilitates the updating of drawings throughout the project. Finalcad One Revit allows the integration of BIM in Finalcad, directly from Autodesk Revit.

It is also possible, thanks to these plugins, to display Finalcad items on drawings directly in AutoCAD or Revit, and to access their detailed information with a click. Numerous adjustments facilitate the mass processing of drawings:
Finalcad One CAD enhancements

:
• Alphabetical sorting of drawing lists
• Large file management
• Adding a drawing from an open file, in 1 click
• Adding multiple drawings by drag and drop
• Recovery of existing texts for zone naming
• Automatic adaptation of text sizes to the zoning
• Creation and duplication of multiple folders simultaneously
• Automatic connection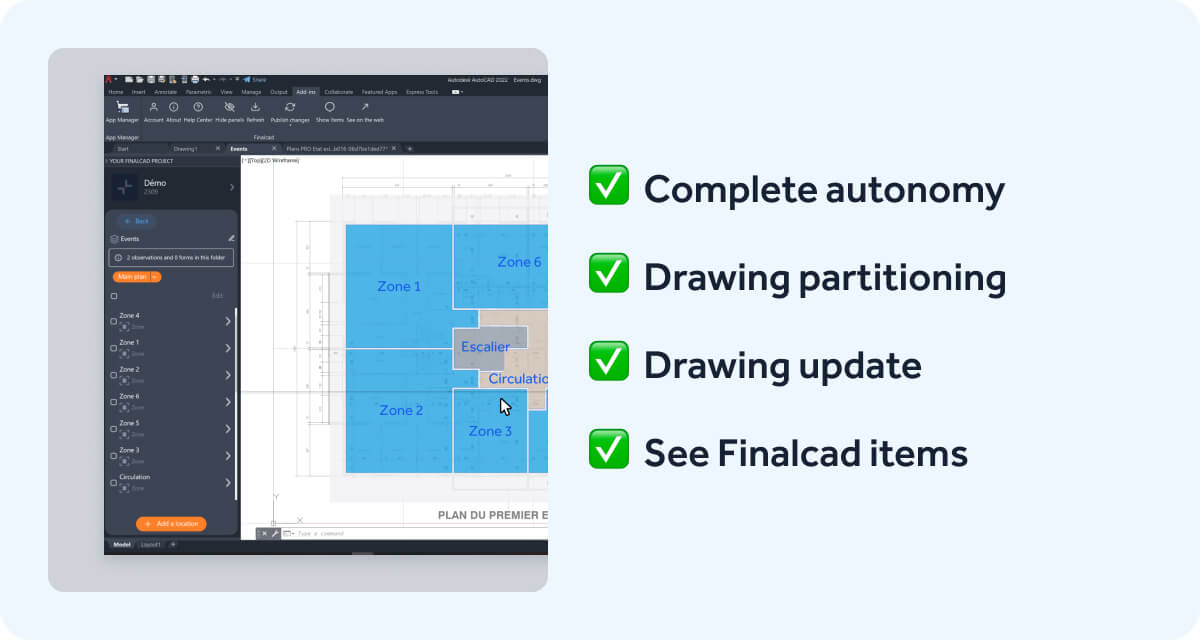 Finalcad One Revit enhancements:
• Management of rvt files without transformation into ifc
• Managing the sending and downloading of large files
• Adding a layout from an open file, in 1 click
• One-click floor drawing creation
• Automatic connection
• Adding drawings and folders by drag and drop
• Management of 2D/3D split view on the web, to facilitate navigation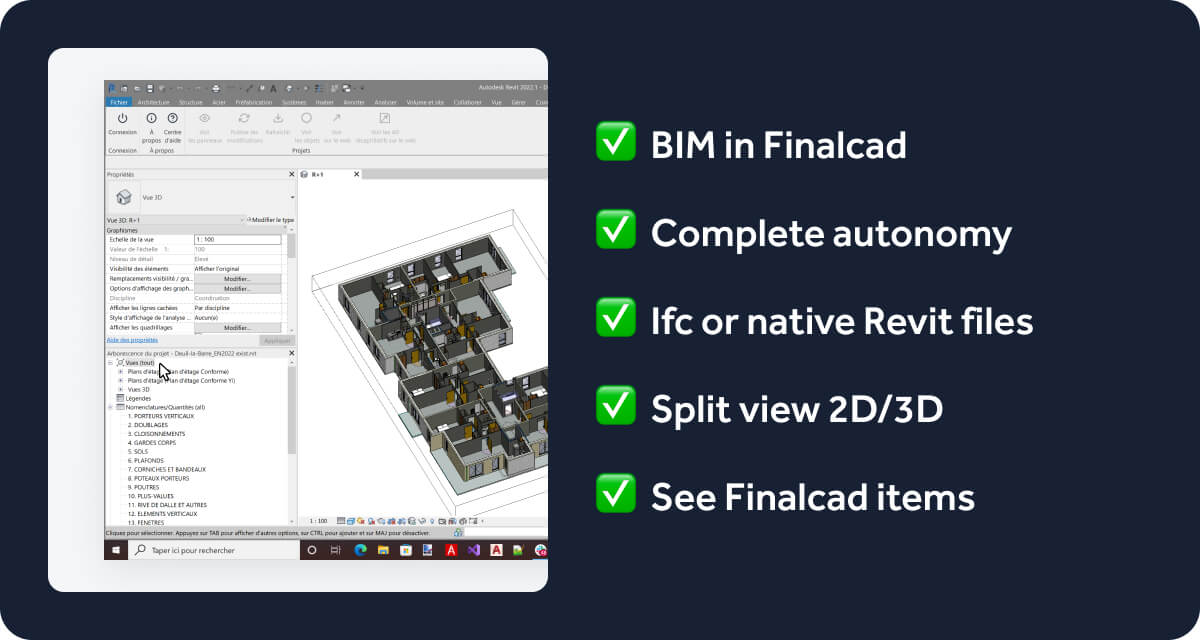 Discover Finalcad plugins for AutoCAD and Revit
📈 Finalcad open API for construction
Finalcad has updated its API capabilities to allow integration within the company's information system, enabling the implementation of large-scale management automation.

The API integrates the management of the new features of the Finalcad One platform, including remote creation and update of projects, centralized management of model libraries, management of organizations and workspaces, creation and update of drawings, creation and management of custom modules, creation and update of items.
API features for deployment

:
• Management of organisations and workspaces
• Centralized management of model libraries
• Creation and update of projects remotely
• Creation and update of drawings
• File creation and documents adding documents
• Management of the list of companies by project
• Reliability of error codes / Update of documentation to facilitate integrations
• Differential APIs to optimise response time by targeting only updated data
• Management of remote phases in projects
• Items management





API features for tracking items

:
• Creation and management of custom modules

• Items creation from third-party systems

• Recovery of GPS coordinates for integration into a GIS or other system

• Retrieving detailed data on items (creation, modifications, drawing or linked document, etc.)

• Updating an item: editing properties, adding images
For more information, see the Finalcad API developer documentation.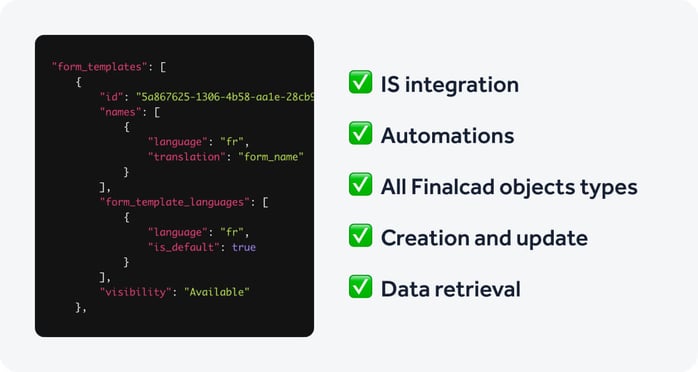 📱Special optimisations for smartphones
Because people sometimes use their smartphone privately, the Finalcad One mobile app has been optimised according to the demands of its users, in order to save storage space, to make it easier to use especially on a smartphone, with one hand. And thanks to the improved compression of the images the files are much lighter, without loss of quality.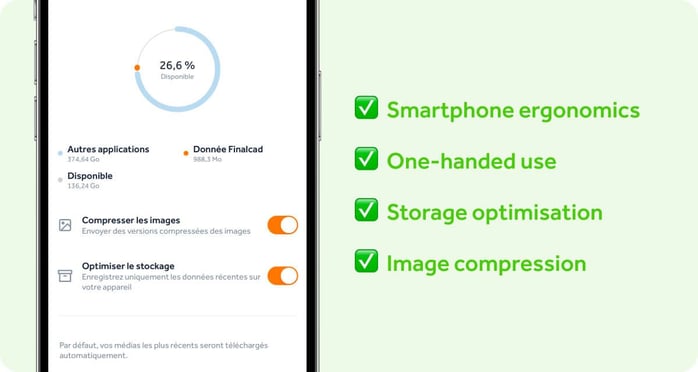 After reading all this, you want to know more?
Then it's time to test it yourself, right now:
---
How can we collect users' ideas?
If we are lucky enough to have many users, we are even luckier to have thousands of users who express their needs, feedback and ideas for improvements or new features. When you have so many ideas, the main challenge in responding to them is first of all to know how to classify them, in a rationalised and industrial manner.


Here are the 3 main steps for collecting and processing user feedback effectively.


🖥️ 1. Set up a platform
We have set up a feedback platform, which allows us to analyse, classify and organise them by theme. This solution is accessible to our users via Finalcad on the web and on mobile.
👂2. Getting lots of feedback
Through this platform, user feedback is complemented by feedback from our employees who are in direct contact with them: Sales, Customer Service, Technical Support teams... All eyes and ears to listen to you and help us prioritise.

This feedback can be complemented by user interviews, in order to bring a qualitative perspective to this qualitative data. Finalcad's product teams have conducted more than 50 user interviews in 2022: thanks to our customers for their availability and their passion, which we share!
📝 3. Industrialise their analysis
When you have thousands of requests, and limited software development capacity, how do you help prioritise choices reliably? How do you know what is most valuable to the most people? We were inspired by the RICE scoring method, developed by Intercom. This method makes it possible to estimate the value of an innovation, with a directly measurable result on the use of these features. And we see that the highest RICEs that are implemented are systematically well used, once available in Finalcad One.

What would you like to see happen in Finalcad One?