Discover the improvements made to the Finalcad One platform for an optimal collaboration experience. From items to reports, plans and photos, not forgetting the public API or collaboration, the entire platform has been improved thanks to the involvement of teams to better meet the demands of construction professionals.
📍 Modules improvements
⚙️ Access to module settings
Access is centralised at the module level, via the "..." menu in the top right of a module, and a quick access is available with a long tap on the module thumbnail from the home page.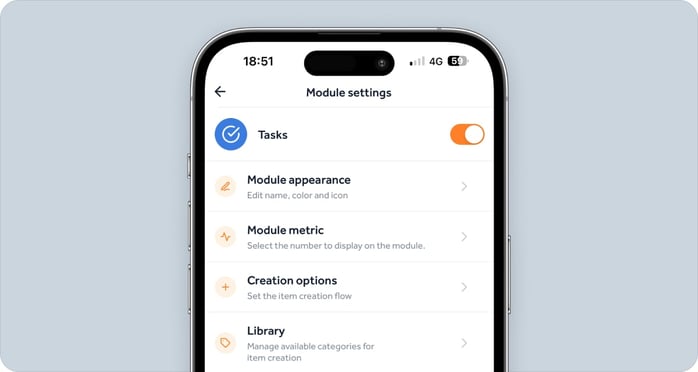 🔀 Customise items creation flow
The creation steps can be adapted to each module: a description and an template to choose from a library, or only one of these two steps.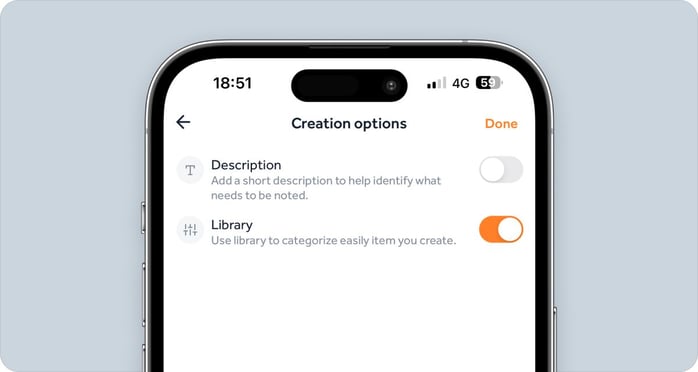 🌦️ Weather report
Parce que les aléas de météo ont un impact fort sur les projets, il est possible d'enregistrer les conditions météorologiques sur la base de la localisation de l'utilisateur. Ce visuel sera partagé dans les rapports, tout simplement.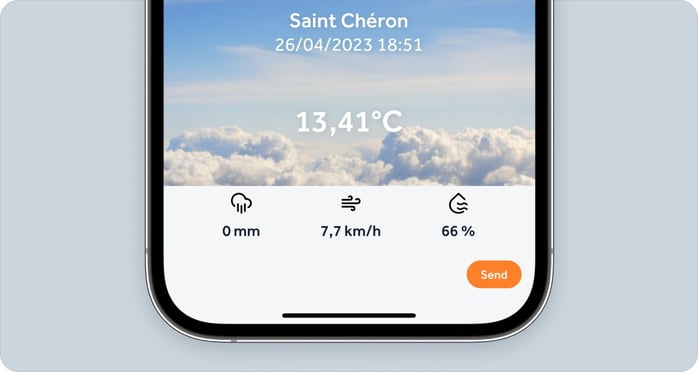 🔎 Improved filters
Quickly find a list of specific items with dedicated filters:
By creation date, to return to the context of a visit

By last update, to follow the reassignment of observation to a subcontractor

By deadline, to have a list of overdue items

By template, to filter on a particular defect, such as balcony repairs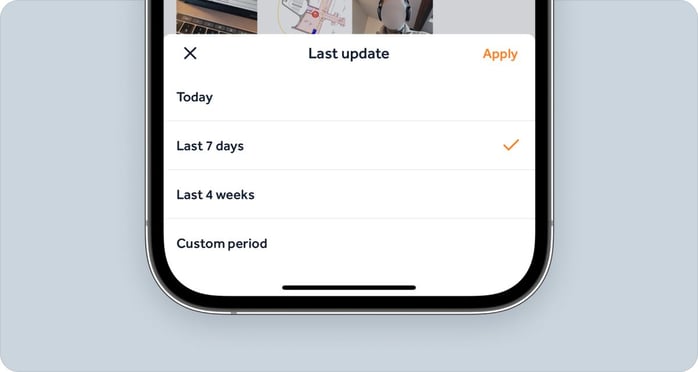 🔗 Improvements on linked items
Several optimisations are available on links between items:
Link or detach multiple items at once

Detach linked items

Implement a pre-set of linked items when creating in quick mode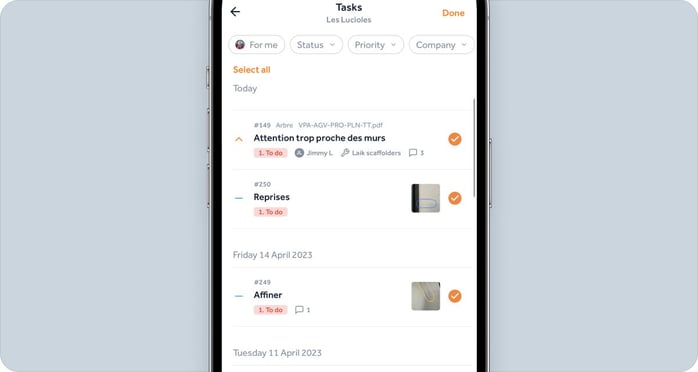 ℹ️ Follow observation changes on the web
Exporting the history of modifications of one or more items allows you to follow all actions, with complete traceability down to the second. Essential to eliminate any discussion about the follow-up of projects.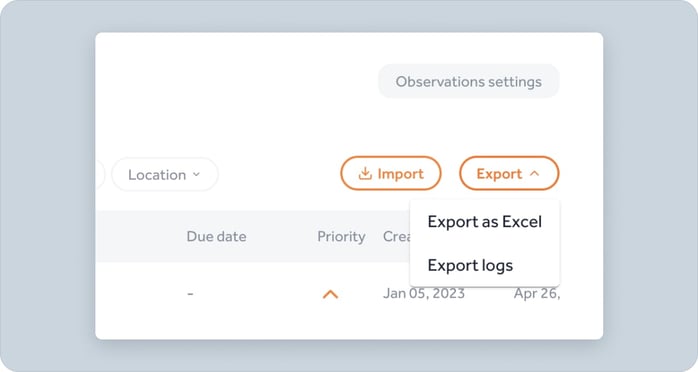 ✅ Guide responses to forms
When creating a form template, an OK or KO response may be forced, without presenting the "not applicable" option.
📋 Sort forms upon creation
In order to save time by avoiding searching for the right template, they are now sorted by popularity or alphabetical order. Easily find the control of reservations in masonry or that of thermal breaks on balconies.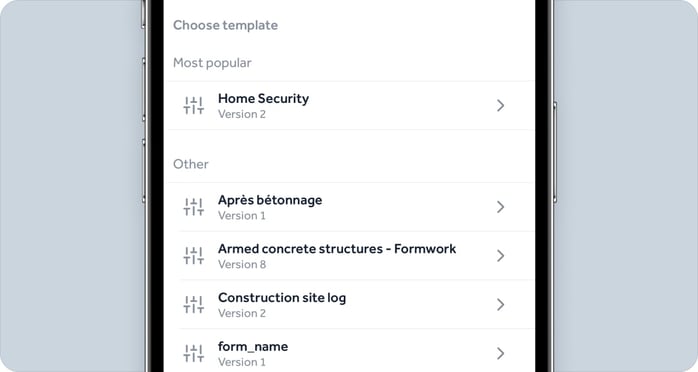 👷‍♀️ Improvements in members management
💁‍♂️ Onboarding assistance
Accompaniment on the arrival of new features in the mobile app, for example for project statistics.
⬆️ Excel import of a list of members
Adding collaborators from an agency, subsidiary, or regional direction can be done by importing an Excel file. All concerned people are assured of having access to the use of Finalcad One.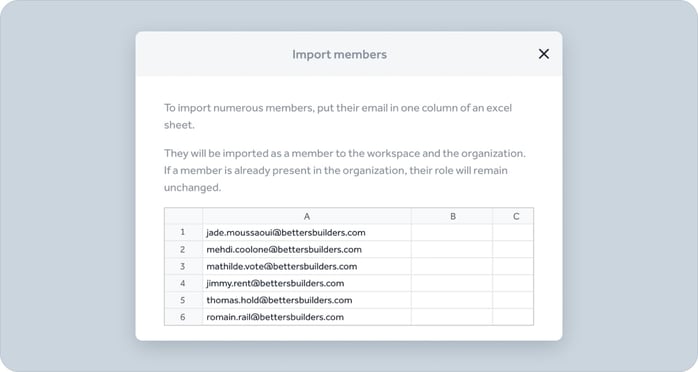 🚪Removing members from the organisation or workspace
Because individual trajectories may leave that of the company, members can be removed from the organisation.
🖼️ Improvements on photos

📸 Taking multiple photos in a burst

Activate the "infinite" mode to take several photos in a row, in order to be more efficient when creating or commenting on an item. This is particularly useful for site engineers who can quickly take evidence with multiple photos, each annotated or not, for example during a site visit in an occupied building being refurbished.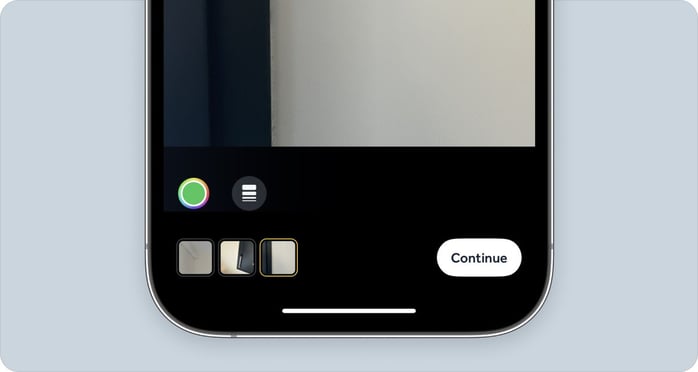 🏞️ Find photos in gallery mode

Because sometimes a visual search is needed, each module has a "gallery" view mode, in addition to the "list" and "dashboard" view modes.
💾 Saving photos
It is possible to automatically save photos in the smartphone or tablet's photo library. They are grouped in a photo album called "Finalcad One". They will be usable outside of the application.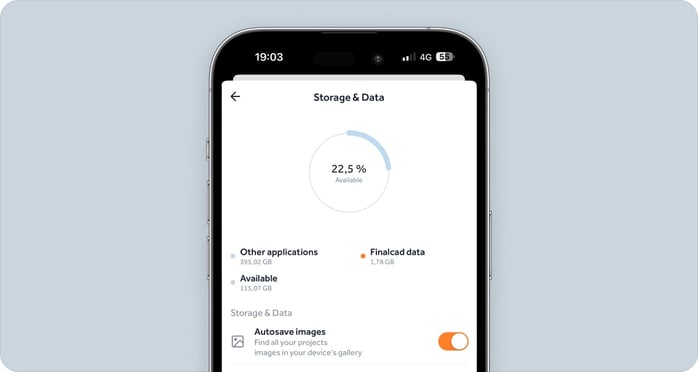 🗺️ Improvements on plans
↔️ Easily switch plans on mobile
On a smartphone, every gesture saved in daily life is appreciated. On Finalcad, it is possible to switch from one plan to another in the same folder, using the arrows at the bottom of the screen, in one gesture.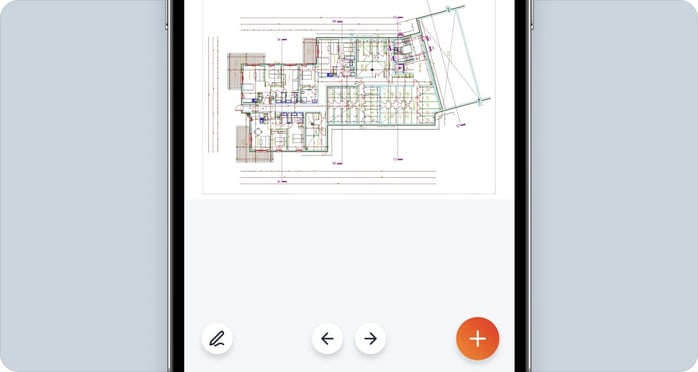 👀 Shared BIM view: 2D and 3D views side-by-side
Navigating through a digital model is not always easy. Thanks to the Finalcad One Revit plugin, a new view mode is possible: the shared view. Simply change level in the 2D viewer to adapt the focus of the 3D view accordingly. And the objects are selectable in both 2D and 3D.

The models are more readable, for example a construction manager can click on a fluid circuit on a cross-section plan of networks and see its location in 3D in a building.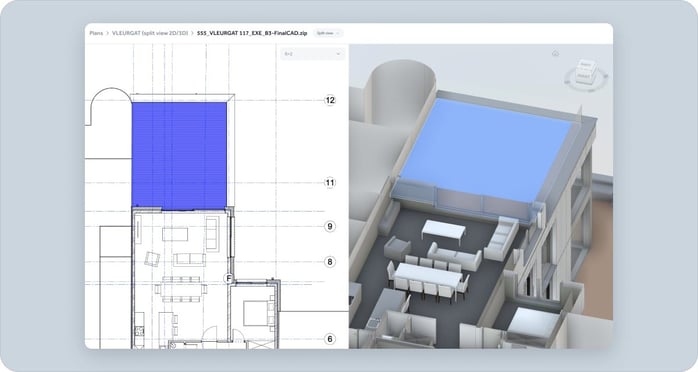 🌍 Removal of geolocation
Sometimes location is no longer relevant, or it is too inaccurate to be useful. In a building, for example, perhaps the inaccuracy places a pin on a nearby building that is not part of the project. It is possible to remove this geolocation information.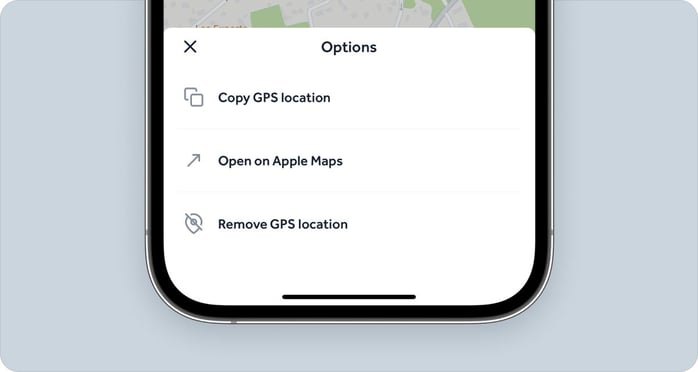 💬 Improvements on collaboration
👥 Sending reports to multiple recipients
For each report, whether it is instant or scheduled periodic sending, it is possible to choose recipients from the list of project members. Each recipient will receive the relevant report email.
🔔 Improvements on notifications
In order to follow all information, when assigning an item to a company, all members of that company will be notified. And to avoid being flooded with notifications, they are grouped (on Android).
📁 Sharing a folder of plans in discussion groups
It is possible to share individual plans, for example in the case of sharing with a buyer of a property, or a group of plans, by sharing a complete folder. This allows, for example, to share the entire 3rd floor of the Block B with a stakeholder.
📄 Improvements on reports
🖨️ Export only the entered data of a form
In order to gain clarity and reduce the number of exported pages, it is possible to hide the unsaved responses on the form. The option is available when exporting a form, on the web and mobile.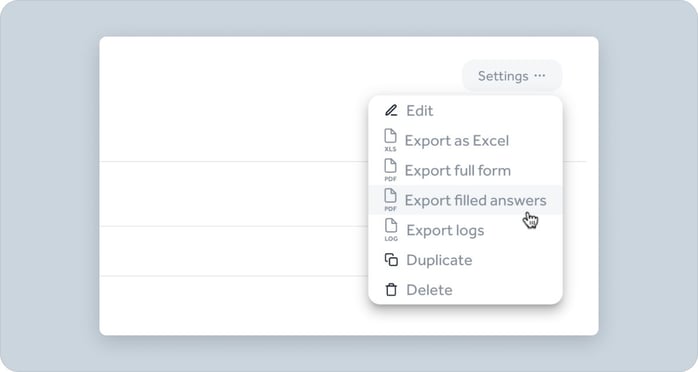 🔗 Links in reports
Links are active in reports: for example, it is possible to link a practical form available in Sharepoint, to a form in Finalcad One.
🔎 More precise reports thanks to new filters
When creating a report, the choice of form template allows you to refine the data, as does the choice of a creation or modification date - this can be on the last 7 days, the last 4 weeks, or a custom period.

For example, during an expertise on a problem of reservations in masonry, it is possible to extract a report from non-compliant control checklists created recently.
🗂️ Display the plan name on PDF form reports
In order to limit risks in case of an audit of a control plan, the name of each plan is automatically displayed, in order to know exactly which plan was used.
👩‍💻 Management improvements
🚧

Sort projects on mobile
Projects can be displayed as you prefer, with a sort:
By alphabetical order

By end date

or by last opening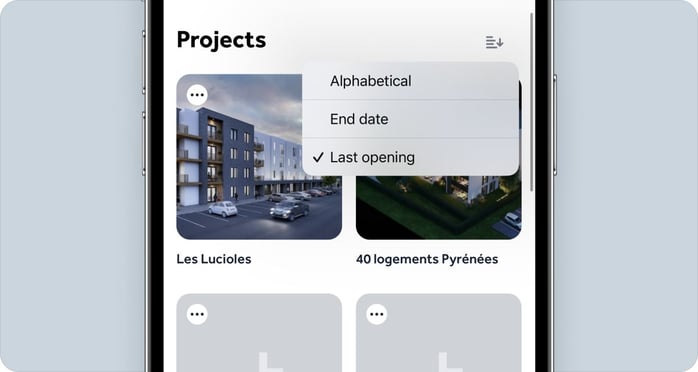 👀 Improvements in organisational and workspace rights
An organisation administrator can see all the projects of their organisation and workspaces without being a member.

A workspace manager has access to all the projects in their workspaces, and if they cannot create an item in the projects without being invited, they can generate reports in order to export data.
7️⃣ Identify an organisation by the number of members
To help join the right organisation, the number of members is displayed on the list of organisations.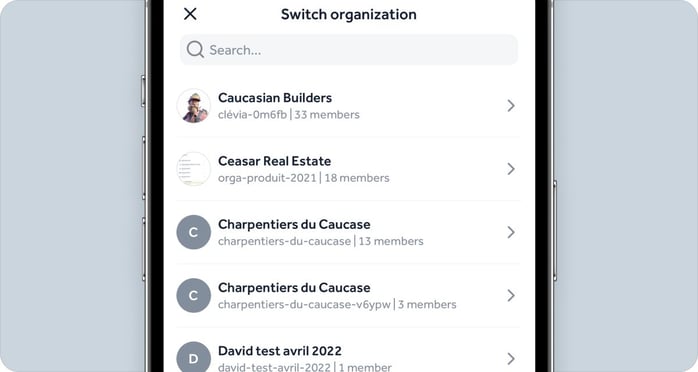 🚫 Delete an organisation
Was an organisation created by mistake or for testing purposes? An administrator can delete it. This functionality demonstrates the importance of respecting privacy and right of erasing personal data carried by Finalcad, in coherence with the GDPR regulations.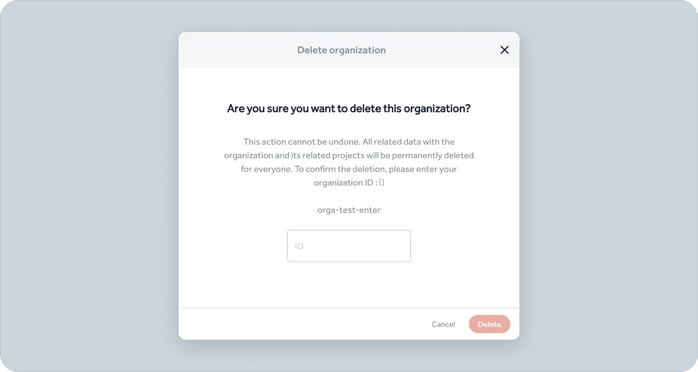 💳 Subscribe directly in the app
Do you mainly use Finalcad on mobile? You can subscribe directly from the app. Handy if you are blocked by the limits of the free offer while using Finalcad on the construction site.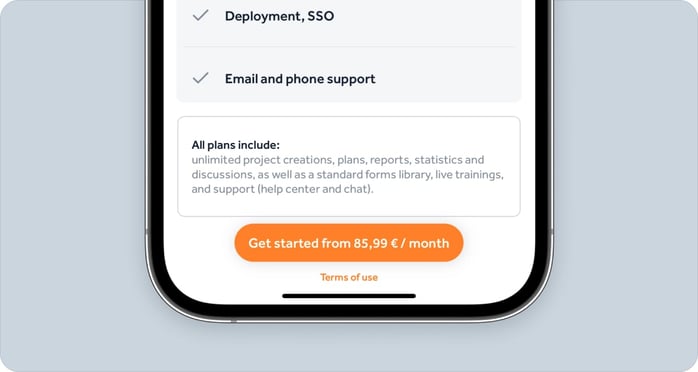 🗃️ Export organisation data to Excel
For an overview of activities on an enterprise scale, simply export the data to Excel. It contains all the data from all the projects, and it can be done at the workspace level and up to the global level of the organisation.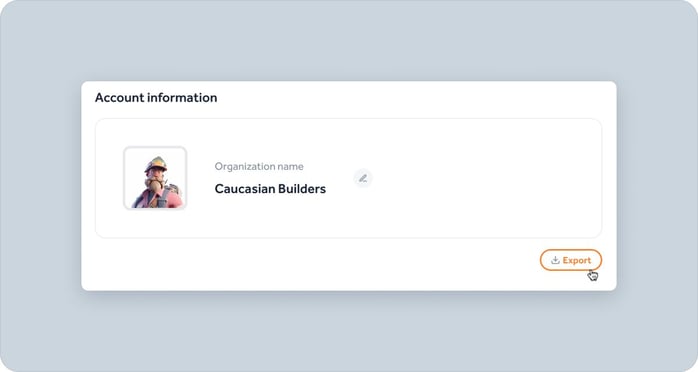 💻 Improvements in public API
🖼️ Automate adding and updating of images
It is possible to add or update observation images, without user intervention. Particularly useful for setting up a maintenance plan, by integrating a schedule with equipment serial numbers and photos.
📁
Automate adding and updating documents
Import and update of documents without file weight limit, for example to transfer plans from a Document Management System to Finalcad, automatically.
📋

Automatically pre-fill forms and their properties
Use the existing data already entered in another ERP, CRM, or CMMS platform to pre-fill the response fields of forms via API. Some use cases examples:
Write a buyer delivery report by automatically retrieving data entered into the CRM

Fill out an installation, testing, and startup form by automatically retrieving data entered into the CMMS

Fill out a form using Finalcad APIs from custom Excel and script files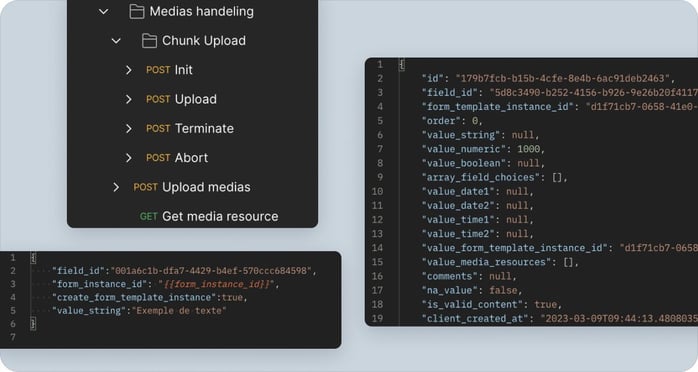 ✨

Automated management of plans and documents
Having up-to-date plans on the construction site is both imperative and almost a dream on the construction site. Finalcad makes this possible thanks to a strong partnership with Mezzoteam for document management.
Through Finalcad's partner API, the user can connect their Mezzoteam workspace in just a few clicks. When a status changes, based on a customised workflow, the user automates the addition or updating of plans and documents on their Finalcad project.
These files are sent to the location defined by the user, and they can also manually send files on demand.
👉 Read the article "Having up-to-date plans and documents on site is no longer a dream", as well as the press release.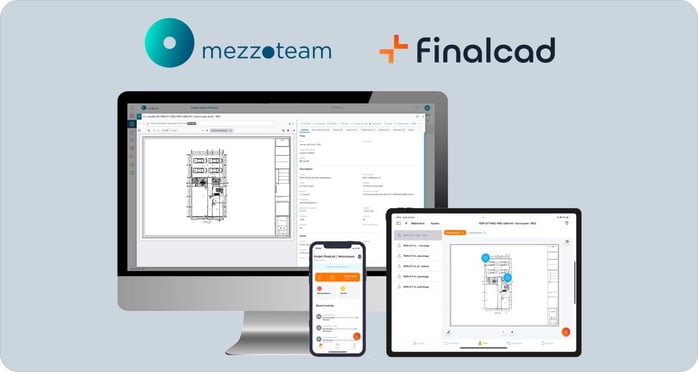 📝

Meetings module with reports
Meetings are a separate module in Finalcad One. A meeting is created in an instant, either by starting from a blank page or from a previous meeting. It is a dedicated module for monitoring meetings, available both on mobile on the construction site, and on the web at the office.
It includes:
structured note-taking in customisable sections

management of stakeholders and their status

adding items from other Finalcad modules such as tasks, controls, close-out forms, or any other module

total traceability of all actions for increased transparency

PDF export of meeting minutes
scheduling of the next meeting if necessary, and related invitations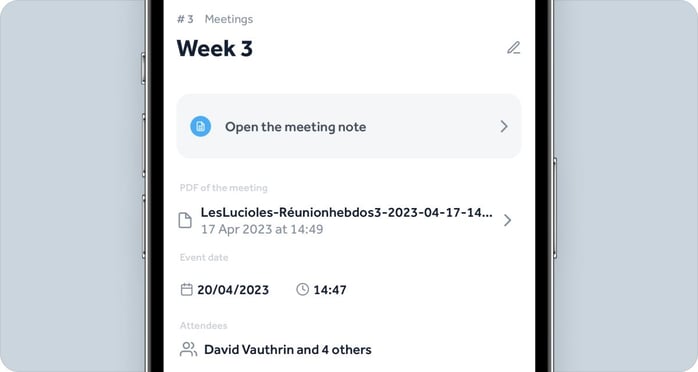 Try Finalcad One for free
Discover the Finalcad One platform now for an optimal collaboration experience. With an intuitive interface and features tailored to the needs of construction professionals, Finalcad One will allow you to improve your productivity and simplify your work processes. Try it today to see for yourself!