Technological innovation and digital transformation have become priority issues for all businesses. Today, artificial intelligence (AI), the stuff of fantasies and passions, has become the focus of everyone's attention including the industrial giants - Google, IBM, Apple, Microsoft, etc. They have put it at the heart of their business agenda and expect to gain much from its high potential.
Extraordinary computing power, the development of a multitude of algorithms and above all the predictive learning offered by AI make it an essential tool in many areas of activity and the construction industry is no exception.
AI and construction: data at the heart of the challenges
Today, AI is still in its infancy and practical applications in the construction sector are more impressive in the movies than in real life. To develop its capabilities, AI indeed needs to feed on data, a lot of data... However, the construction environment is still poorly equipped to capture and share this data. Many building workers are still at the pencil and paper stage. Added to this is the fact that each project often calls on a multitude of stakeholders - architects, design offices, teams belonging to different trades (masons, carpenters, electricians, etc.) - and information sharing is not always optimal. However, to be usable, data must be protected from end to end and enriched at each stage. It is therefore important to secure this data chain, which is essential for the creation of AI-based applications.
What data is necessary for artificial intelligence?
The construction sector handles a lot of data. Each site constantly creates data: images, sounds, videos, written documents, etc. The more diverse and multiple data becomes, the wider the possible scope of use of AI will be. But it's not about collecting any data, anyhow. Indeed, to set up robust predictive systems, the expertise of the stakeholders and their knowledge of the sector must guide the choice of data because they are the most qualified to define the needs related to a project. Finally, it is also important to call upon stakeholders capable of tying in all Construction stakeholders to collect, pool together, clean and enrich data in order to analyse and transform it into a structured and usable "corpus of knowledge".
Digital site monitoring platforms are therefore effective tools for capturing the different data necessary for the structured implementation of predictive algorithms. For example, the Finalcad One platform makes it possible to collect, from mobile devices (smartphones, tablets) and in structured and usable form, a large amount of information relating to the progress and roll-out of various processes and operations on construction sites at different phases of work performance. The forms engine can be used to create all types of input and control pages to digitise processes related to quality, safety and regulatory compliance of site operations. It is therefore possible to consolidate different types of information that is delivered in a structured and reliable format consistent with itself and with the company's repositories. This information, after consolidation, cleaning and enrichment, can input reporting and Business Intelligence systems, but can also allow the implementation of predictive algorithms having a direct impact on the operational efficiency of Construction companies. By systematically digitising the feedback of data from sites, predictive technology can, for example, help to:
- make automatic modifications to digital plans to facilitate their on-site use on mobile devices (modification of colours, contrast levels, automated cutting / zoning, etc.),
- forecast material needs and probable discrepancies to better plan supplies and avoid disruptions in the supply chain,
- identify the most probable causes of accidents according to the characteristics of sites and implement measures to avoid them,
- anticipate probable breaches of certain legal or regulatory obligations in order to protect against them,
- anticipate recurring defects in operations prior to the reception / delivery phase to outline the team schedule and budgets accordingly,
- move towards predictive maintenance once a building or structure has entered its operating phase.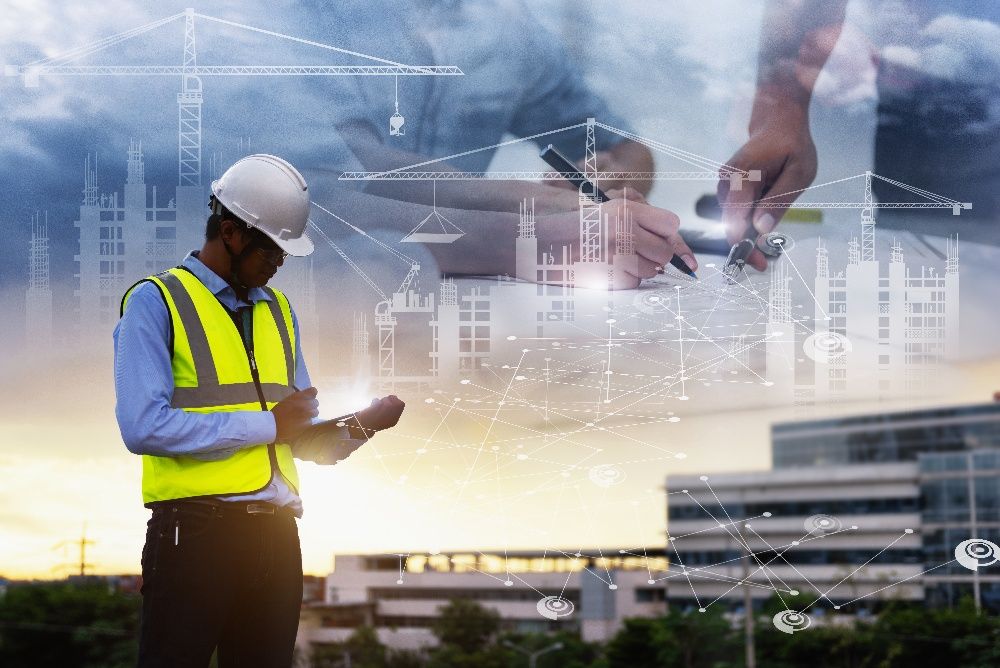 AI opens up many possibilities for construction and there is no shortage of ideas
While AI is above all a way to improve the productivity and efficiency of businesses, it has many applications, at all stages of a project: design of plans, building management, alerts concerning potential risks (accidents, delays, etc.), translation of instructions in real time, meeting minutes, management of agendas, etc. All these innovations largely depend on the digitisation of the various equipment which makes it possible to recover and share data. With the acceleration of the digitisation of the construction sector, a whole field of possibilities is opening up to it. Two examples of practical application of AI in the Construction sector:

Improvement of site safety
Construction sites are particularly dangerous working environments. To improve worker safety and avoid accidents, AI has a real role to play. It can, for example, make it possible to signal hazardous situations and thus improve risk anticipation. AI can collect and pool site data in real time via connected objects such as drones or IoT sensors. This can cover the activities of employees and machines on site, the weather, etc. The work environment can therefore be analysed to raise the alarm in the event of a problem, thus helping employees to work more efficiently and in complete safety.

Improved productivity
To increase productivity on a construction site, several avenues are possible thanks to AI. For example, autonomous construction machinery can be used to perform repetitive tasks. It is also possible, thanks to the pooling of site data, to optimise resources or automate certain tasks. It should be noted, however, that today, all applications related to AI are completed and/or controlled by humans.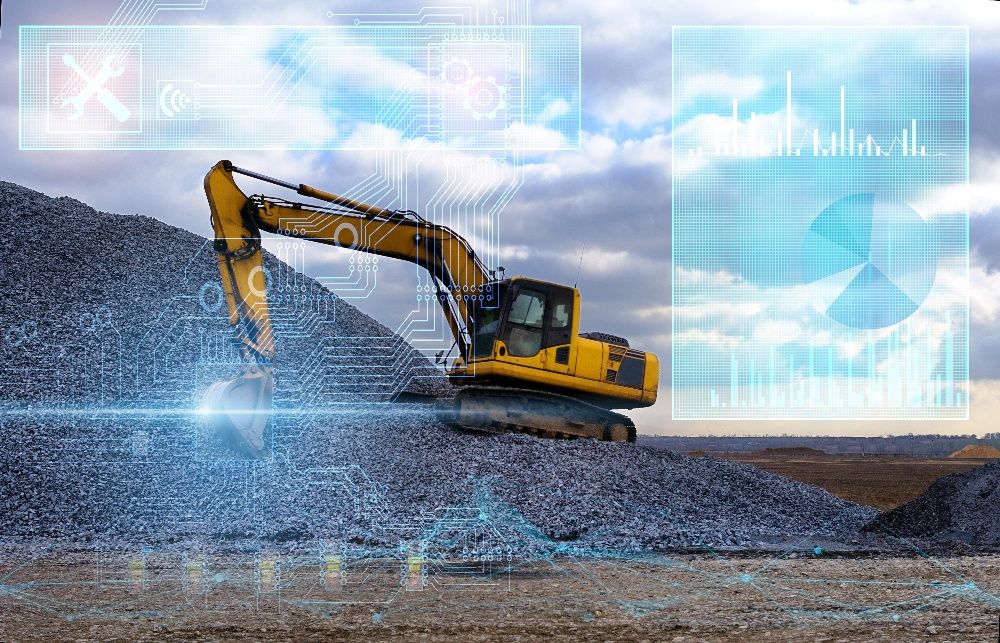 AI and the fear of the unknown
While AI is full of promise, fear of the unknown is leading some to speak out against this new technology: Will machines replace humans or take their jobs? What about personal data protection? And finally, what impact does this energy-intensive technology have on the environment?
There are many questions. The success of AI deployment therefore requires a change of mindset to adapt to today's global issues, linked to a better comfort of living.
Yes, AI will allow machines to replace humans for certain tasks but will spare them from danger and arduousness. Yes, it will probably replace some jobs, but it will also create others. Yes, more and more data will be needed to power AI, but States need to further strengthen the protection of this data, in particular personal data. And finally yes, AI consumes a lot of energy for calculations and data storage. There will have to be smart and responsible choices made in order to only implement solutions that meet a real need, in order to avoid wasting any energy.
AI is only in its infancy but already a multitude of applications are being studied and the first concrete applications are emerging in the construction sector. It is about to revolutionise the construction world by offering a more pleasant and secure working environment but also by contributing to greater efficiency and better productivity. The era of "augmented construction sites" and the "augmented worker" has arrived, and this is probably only the beginning...
---
Are you looking for tools to digitise your worksites?
Let's talk about this together.
---