Example of the digitisation of the ETF project to renovate the siding in Dreux
Paris, February 16th 2021
The pressures weighing upon the rail construction sector are immense in terms of quality – but above all time. In this regard, digital technology can play a particularly crucial role in helping it to overcome such pressures. To support rail construction stakeholders in their digital transition, Finalcad, the digitisation specialist in the building & civil engineering sectors, shares its expertise and tailors its tools to meet their specific requirements.
The implications of digitisation in the rail construction sector
Digital technology is still not widely harnessed in the building/civil engineering sector or the rail industry, and yet it harbours tremendous potential that is proving a game-changer for the traditional working methods and routines of stakeholders right across the chain (corporate contractor, project manager and client). This is because it can harvest data, share this between teams both on- and off-site and pool it. The result? Optimised collaboration on-site, follow-up of problems, compliance monitoring and assessment, and communication between the construction site and the office – all of which helps to guarantee completion on schedule and quality monitoring.
For over a decade, Finalcad, the digitisation specialist in the building & civil engineering sectors, has been sharing its expertise with the industry via its collaborative platform. Since 2016, it has also been working with the main rail construction stakeholders for which it has configured and enhanced its platform accordingly.
The number one advantage of this platform – besides being easy to use – is that teams can use it not only to collect and share various datasets but also to receive feedback from the construction sites with a view to compiling databases that are easy to access and analyse. The overall aim is to lead to optimised construction projects over the long-term.
The successful digitisation of the ETF project to renovate the sidings - Dreux
ETF was tasked with renovating the tracks, near Dreux train station, to accommodate the new REGIO 2N trains from 2021. The main challenge beyond ensuring quality was delivery on schedule.
The work got underway on 7 September 2020 and ended on 4 November, with a one-month phase when the teams worked double 2X8 shifts (6.00-14.00 and 14.00-22.00) over 3.5 km of tracks.
Throughout the works, all of the stakeholders were able to access the Finalcad digital platform both at ETF (branch manager, team leader, construction manager, quality controller, superintendent and sector head) and on the project management side (construction supervisor and project leader) as well as at the client end – SNCF Réseau.
Via the Finalcad collaborative platform, they were particularly able to edit and generate the construction logs in an automated fashion – event summaries and jobs carried out during the day, together with such details as photos, comments and precise information – which helped them not only to save at least one hour every day, but also to save all of this data in a consolidated manner. Overseen by the superintendent, these digital reports could be shared with the various parties involved in the project whether on- or off-site; this has particular merits in terms of shift work (teams alternating day/night and weekday/weekend work) as well as information traceability.
"Innovation and digital transformation are high-stakes issues in the rail construction sector. The benefits of this partnership with Finalcad – the market leader – included improved management of coactivity and quality monitoring of the construction site, time-saving for teams especially during shifts, faster follow-up and more precise reporting. Thanks to this partnership with Finalcad today, we are able to collect and share data to improve our construction projects – but this only concerns a first stage in the digitisation of our construction sites.
We are subsequently aiming to roll this type of tool out across most of our construction sites in the Parisian region to achieve operational excellence on our projects. Incidentally, we would like to deploy digitisation on a large scale and to include BIM in our service options, something which Finalcad could also assist us with," enthuses Jeremy Goguet, Branch Manager at ETF.
"We first partnered up with ETF back in 2016 and we are particularly proud of the opportunity to continue supporting this company in the digitisation of its construction sites. We provide its teams both on-site and in the offices with a digital platform that is intuitive and easy to use, enabling them to deliver excellence, on schedule.
By working with ETF, we have been able to hone our expertise of rail construction projects, not least concerning major routes, and to tailor our tools to this sector, which is increasingly taking the strategic advantages of digital technology on board," explains Franck Le Tendre, CEO of Finalcad.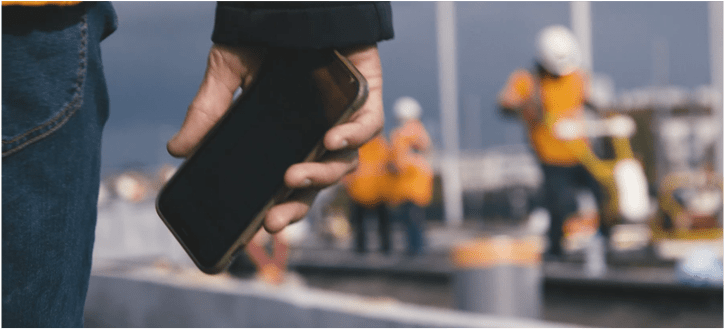 About Finalcad
Finalcad is the collaborative platform designed to optimise and facilitate the field experience of the construction industries, including the building, infrastructure and energy sectors. It's a well-known fact that the construction sector has to overcome the challenge of tight margins and low profitability by driving down operational costs, and that's why Finalcad contributes to continuous improvement and helps teams to work even more efficiently.
Enabling companies to perform routine tasks even more efficiently and safely by digitising their workflows; Finalcad captures data from across the site, facility or asset, empowering all of the stakeholders – teams in the field, the subcontractor, the project manager and the client – with the data they need to ensure accurate decision-making.
Founded a decade ago by a team of experts with in-depth knowledge of the industry, Finalcad has raised over €57m in funds to date. In 2019, it was named a "Next40 company" by the French Government, as one of the forty most promising French start-ups with high prospects of becoming global tech leaders. Finalcad is headquartered in France and employs more than 120 people worldwide. Its customers can be found all over the world and it has been used on more than 24,000 projects across 35 countries.
To find out more about Finalcad, have a look at our website: www.finalcad.com.
Press contact :
Agence suPR !
Irène Semeraro : +33 (6) 80 80 83 97
Véronique Wasa : +33 (6) 52 22 69 07