Paris, March 1 2016 - Finalcad, the company providing digital processes and services to the construction industry to change the way we build, is going a step further into smart data by providing two new web applications: GETMYDATA enables users to download their customer data, and FINALBIM provides managers with a real-time overview of their current projects.
GETMYDATA and FINALBIM share the same ambition: to accelerate the construction industry's digital transformation by providing smart solutions both in the field and for project management, through innovative analytics and decision-making tools.
Finalcad differenciates for its ability to transform raw data into reliable analytics, whether internal analytics for companies or general interest studies, like those of the Finalcad Construction Observatory. The generic nature of information processed enables Finalcad to provide analytics and neutral, objective studies relevant to all industry players. Data neutrality and anonymity are key commitments for Finalcad; this is explained in greater detail in the "Finalcad Data Usage Charter". Finalcad is an independent player striving to change the way we build.
"Since its creation, Finalcad was designed and structured to make information collected on site more useful. Given the positive feedback we received after we published the Finalcad Construction Observatory, we are now able to provide our customers with similar tools for synthetic and predictive analytics for their own sites. Whether across the sector or for a customer, our goal is the same: to improve construction quality by creating a worksite construction memory, because products, materials, standards and regulations are changing increasingly more quickly, so we must transform knowledge and become knowledgeable at the same pace." said Jimmy Louchart, FINALCAD's co-Founder and CEO.
The two new applications use Finalcad's "DSPP" approach: Distribute (with GETMYDATA), Synthesize (with FINALBIM), Predict and Prescribe (with the Finalcad mobile app on work sites).
GETMYDATA provides information systems managers with a simple, effective solution to retrieve data collected via the Finalcad application by the company's various internal users. With one click, a user with credentials can access notes, snags, quality controls and an image database through a secured web interface. This data can be downloaded directly in CSV format and integrated into the company's existing big data systems.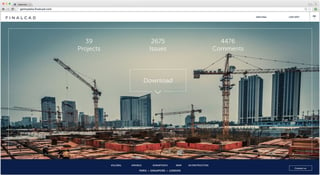 While BIM programs are becoming increasingly more important within construction companies, traditional BIM struggles to enrich with worksite data. With FINALBIM, managers can now monitor their operations' progress with compiled statistics in real time from a web platform. This platform provides an overview of how observations are distributed by trade, a ranking of the most recurring observations (by trade), project process in the form of an interactive site map, and a photo gallery featuring observations collected by Finalcad users in real time. Finalcad algorithms harmonize this data in order to generate this instant analysis. FINALBIM is a true decision-making tool designed to connect managers with site operations through a simple, compelling user interface.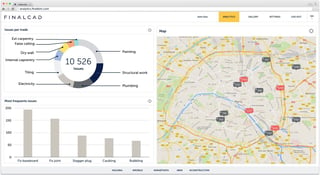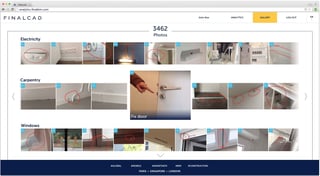 GETMYDATA is available for Finalcad customers as of today.
FINALBIM is available in beta version for Finalcad customers as of today.