Paris, 6th April 2016 - Finalcad, the digital player supplying the construction industry sector with applications and digital processes that change the way we build, announces the launch of Finalcad LABS and reveals SMARTSNAG image recognition project, a true revolution that marks an unprecedented turning point in the digitalization of construction and once again places Finalcad at the forefront stream of its market.
Since its creation, Finalcad has brought accessible technologies to more than 100 professionals, with the aim of improving quality and productivity. Today, Finalcad is going further by sharing its fundamental research via Finalcad LABS, dedicated to the experimentation of disruptive innovations and their use for the world of construction.
"At the end of 2015, our research and development activity was reinforced with the arrival of 'data scientists,' standard experts, academic researchers in experimental mathematics, who worked on advanced data analysis algorithms, of image recognition and automatic learning methods such as 'deep learning'. All of this has a unique aim : to offer a trade ergonomy and user experience without precedent for the world of construction" added Antoine Favreau, Finalcad CTO.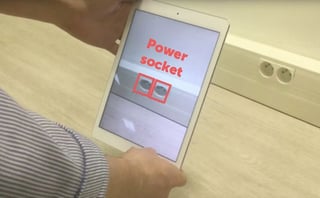 SMARTSNAG is the first project revealed by Finalcad LABS. It combines advanced techniques of image recognition with the accuracy of hundreds of thousands of photos. By pointing the camera of a tablet or smartphone on a remarkable object (for example : a defective socket, a non-conforming piece of equipment…), SMARTSNAG will automatically recognize the object concerned and associate it with the addition of an observation. This automization enables the numbers of actions necessary to add an observation with a photo, to be reduced by a third (from 6 taps to 2 taps). By combining it with a digital model, SMARTSNAG can even pin information to a BIM object, recognized as being ascended in the digital model.
"Our deepest conviction, confirmed every day since the creation of Finalcad, is that true digital transformation comes from the field. The minutiae of each Finalcad detail is considered in order to be as close as possible to the issues of users in the field. It is therefore natural to open the work of our Finalcad LABS to complete the innovation loop with our pilot users" declared Jimmy Louchart, Finalcad President and Co-Founder.
The SMARTSNAG project will be first presented at the BIM World 2016 event that is being held the 6th and 7th April at the Espace Grande Arche, La Défense. To keep in touch with its progress and the future projects of Finalcad LABS, please register your interest at http://labs.finalcad.com/
About Finalcad
Finalcad provides the mobile platform and predictive analytics that help construction stakeholders anticipate and fix issues found during the building's journey. Our mission: increase quality, reduce its cost and make it accessible to all. Since 2011, Finalcad has helped more than 8000 projects in 30 countries, and keeps on advancing the digital transition of the construction industry. For more information, visit http://www.finalcad.com
Press Contacts
Corp/Global
France
Aria Partners
Victoria BINOCHE