Paris, October 28th - Gildas Leroy has been appointed new VP Sales to reinforce Finalcad's growth and global development.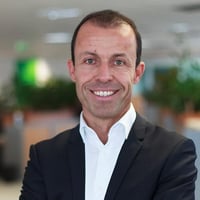 Gildas has spent more than 15 years as General Manager, Sales Director and Business Development Manager at various US and France-based software vendors. He has a proven track record in building high performing sales and marketing ops. Prior to joining Finalcad, Gildas was France Sales Director with Sage.
Gildas joins Finalcad as the new VP Sales, in charge of developing, reinforcing and coaching the sales team worldwide, with a specific focus upon Europe and Asia.
"We are very pleased to welcome Gildas Leroy as our VP Sales. His successful international experience will support our outstanding growth and ambitions in a global market" said Jimmy Louchart, Finalcad co-founder and CEO.
"I am very glad to join Finalcad, one of the most promising French Tech software companies, with its impressive growth of revenue in France and abroad, and more than 100.000 users across 25 countries. We aim at leading the digital transition of the construction industry, and I will manage to execute the sales strategy in order to fulfill this goal" said Gildas Leroy.
Gildas holds a M.Sc in IT Engineering and Management, and a Master in Business Unit Management from HEC, Paris Executive Education.