Paris and London, December 3rd, 2015 – Today, Finalcad announced that it ranked number 109 on the Deloitte Technology Fast 500 EMEA 2015, a ranking of the 500 fastest growing technology companies in EMEA. Rankings are based on percentage revenue growth over four years. Finalcad grew 827 percent during this period.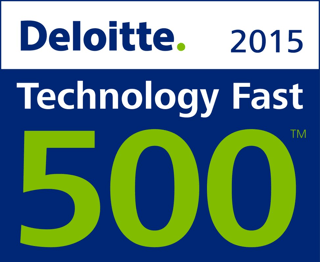 Finalcad's co-founder and CEO, Jimmy Louchart, credits 827 percent revenue growth over the past four years to the massive adoption of Finalcad by the construction industry and rapid international development. "This ranking in the Deloitte Technology Fast 500 is happening at a very relevant stage in our development since we're currently preparing for a Series B round -after a Series A secured in June 2014 with Serena Capital- in order to accelerate our growth" said Jimmy Louchart.
"Securing a position in the Deloitte Technology Fast 500 is an impressive feat, especially in the highly competitive and rapidly changing environment of the technology industry," said David Cobb, Deloitte UK and partner in charge of the Deloitte Technology Fast 500 EMEA programme. "We congratulate Finalcad on being among the most dynamic and successful technology companies in the region."
"Making the Deloitte Technology Fast 500 EMEA ranking shows Finalcad's commitment to innovation and pushing the industry forward," David Cobb, Deloitte UK and partner in charge of the Deloitte Technology Fast 500 EMEA programme. "With its 827% growth rate over four years, Finalcad has proven that its leadership has the vision and determination to grow in a highly competitive market."
In addition to ranking in the Deloitte Technology Fast 500, Finalcad ranked 16th in the France Deloitte Technology Fast 50, which is a ranking of the 50 fastest growing technology firms in France.
Deloitte Technology Fast 500 EMEA selection and qualifications
The Technology Fast 500 list is compiled by the Deloitte EMEA Technology Fast 50 programme, nominations submitted directly to the Technology Fast 500, as well as public company database research. To qualify for the Technology Fast 500, entrants must have had base-year operating revenues of at least €50,000 and current-year operating revenues of at least €800,000.
Entrants may be either public or private companies but must be a 'technology company', headquartered in EMEA. A 'technology company' is defined as a company that develops or owns proprietary technology that contributes to a significant portion of the company's operating revenues, or manufactures a technology-related product, or devotes a high percentage of effort to the research and development of technology. Using other companies' technology in a unique way does not qualify.
About Deloitte Technology Fast 500™ EMEA
The Deloitte Technology Fast 500 EMEA programme is the region's most objective industry-ranking to focus on the technology field, recognising technology companies that have achieved the fastest rates of revenue growth in Europe, the Middle East, and Africa (EMEA) during the past four years. Combining technological innovation, entrepreneurship and rapid growth, Fast 500 companies – large, small, public and private – span a variety of industry sectors, and are leaders in hardware, software, communications, media, life sciences and clean technology.
The programme is supported by the Deloitte Technology Fast 50 initiatives, which rank high growth technology companies by location or specifically defined geographic area and is run by the Deloitte Touche Tohmatsu Limited's Technology, Media & Telecommunications (TMT) global industry group. Co-sponsors include Eight Roads, a venture and growth capital investor which backs entrepreneurs with aspiration for greatness in the IT and clean technology sectors across Europe, Silicon Valley Bank, the premier bank for technology, life science, private equity and premium wine businesses and Taylor Wessing, a leading International law firm with a focus on the industries of tomorrow.
About Deloitte
Deloitte refers to one or more of Deloitte Touche Tohmatsu Limited, a UK private company limited by guarantee ("DTTL"), its network of member firms, and their related entities. DTTL and each of its member firms are legally separate and independent entities. DTTL (also referred to as "Deloitte Global") does not provide services to clients. Please see www.deloitte.com/about for a more detailed description of DTTL and its member firms.
Deloitte provides audit, consulting, financial advisory, risk management, tax and related services to public and private clients spanning multiple industries. With a globally connected network of member firms in more than 150 countries, Deloitte brings world-class capabilities and high-quality service to clients, delivering the insights they need to address their most complex business challenges. Deloitte's more than 225,000 professionals are committed to making an impact that matters. Deloitte serves 4 out of 5 Fortune Global 500® companies, please connect with DTTL on.
This communication contains general information only, and none of Deloitte Touche Tohmatsu Limited, its member firms, or their related entities (collectively, the "Deloitte network") is, by means of this communication, rendering professional advice or services. No entity in the Deloitte network shall be responsible for any loss whatsoever sustained by any person who relies on this communication.
© 2015. For information, contact Deloitte Touche Tohmatsu Limited.