Paris, March 25th, 2015 - Finalcad today appointed Aurélien Blaha as its new Marketing Director. This recruitment comes as a new step in Finalcad's international development initiated in 2014.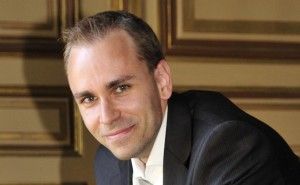 Aurélien Blaha, 34, worked for ten years at Dassault Systèmes as Market Intelligence Manager and Social Communications Manager. He will be in charge of developing Finalcad's brand awareness, taking responsibility for driving the company's international marketing strategy and increasing uptake of services in key markets, with the new BIM[1] requirements as challenge for 2015.
Finalcad has developed a wide range of digital services covering the complete lifecycle of a building, from construction to facility management (FM). Since its creation in 2011, Finalcad has continued to impress more and more construction companies, driving the digital transformation from the field, in more than 4,000 construction projects across 25 countries.
Each employee is deeply committed to the Finalcad adventure, which, as its co-founders say, is key to the company's success. Aurélien Blaha's appointment is completely in line with this team spirit. "Finalcad is one of the few French Tech[2] gems poised to thrive on a global scale. Beyond great technology and an impressive business momentum, the cultural fit with the team definitely convinced me to join this adventure" said Aurélien Blaha.
"We are thrilled to welcome Aurélien for this new position, this represents a big step for the strategic development of our international offer." said Jimmy Louchart, Finalcad's CEO and co-founder.
Aurélien graduated in Software Engineering from Ecole Centrale d'Electronique (ECE) in Paris, and in International Management from ESSEC Business School in Paris and Thunderbird School of Global Management in Phoenix, AZ. As a Competitive Intelligence and Social Media expert, he has spoken at various conferences including International Competitive Intelligence (ICI), Strategy and Competitive Intelligence Professionals (SCIP), Social Media Week, SocialMedia.Org, and Web Summit. He is also a lecturer at EPITA Engineering School and ESSEC Business School.
Finalcad tripled its staff in 2014 and plans to hire new talents in 2015 for its R&D, Production, Marketing and Sales, both in France and abroad.