The International Built Environment Week(IBEW), to be held from 3 to 6 September 2019 in Singapore is the most comprehensive building event in APAC. The event is organised by the Building and Construction Authority (BCA) and supported by 12 Trade Associations and Chambers. the inaugural event will convene under the theme " Transforming The Way We Build".

Innobuild Asia is one of the 4 trade shows holding during the IBEW in order to promote the adoption of technology to drive efficiencies at every stage of the construction life cycle. On September 4 to 6, Finalcad is participating in the trade show as an exhibitor.
At the booth 1-J23 in Singapore Pavilion, you will be able to find digital solution to improve field processes, HSE & quality control and defect management. Request a meeting with us in advance and do not miss the chance to get Finalcad exclusive goodies !

Finalcad shares insightful ideas of modernising construction at IBEW conference
The co-founder, Mr. David VAUTHRIN will speak about how to successfully digitise construction sites during the track 2.2 Modernising Construction at IBEW conference. The audiences, who are delegates, decision makers and industry leaders will get problem solving answers to face the future challenges in the construction industry. Click here to register to the IBEW conference.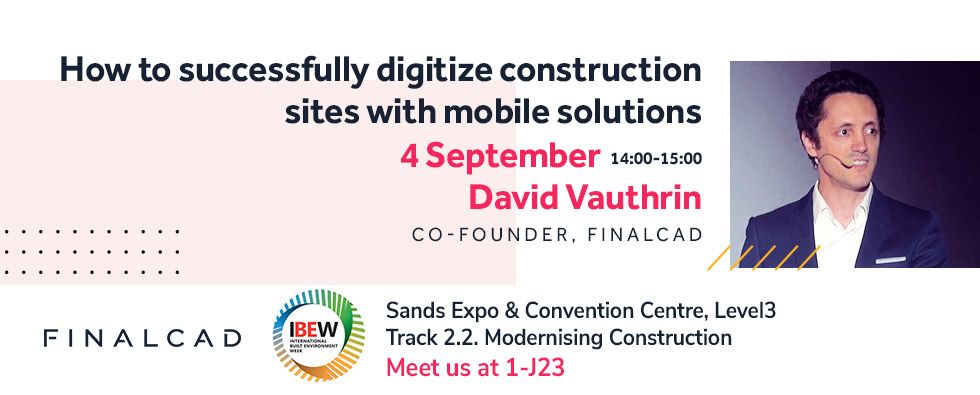 Finalcad showcases new product features and speak about productivity increase at Innobuild Asia
In addition to participation as an exhibitor in the trade show, Mr. BK HENG, the Regional Director will talk about "Productivity increase through digital transformation in project sites" at the Green View Stage at Innobuild Asia.