Since 2018, Chantiers Modernes Construction and Finalcad have combined their expertise to digitalize construction companies in Morocco.
Five years later, the results are clear: digitalization has never been so central to the strategy of the sector's players.
Pioneer of digitalization in Morocco
Chantiers Modernes Construction (CMC) is a project management assistance firm specializing in the construction industry. It supports the digital transformation of Moroccan companies, from project definition to final acceptance.
| | |
| --- | --- |
| At the crossroads of the professions - project owners and prime contractors, general contractors and architects - the firm reaches all the players in a market that is still not very digitalized. | |
Thanks to this pioneering approach, which brings technology to all areas of construction, their clients are in the process of converting to worksites 2.0.
This is both a competitive advantage for the client and a colossal challenge taken up by CMC and its two founders, Saad Mekouar and Mohamed Lahrichi, as the way of working is so new.
The alliance: two companies, one mission
This mission? To support construction industry players in their digital transition, and more specifically in the digitization of their field processes. The objective is simple: to gain in productivity, deadlines and quality for a significant impact on the project margin.
Since 2018, the two Moroccan entrepreneurs and the three co-founders of Finalcad, David Vauthrin, Jimmy and Joffroy Louchart, have been working hand in hand to achieve this mission.
"Two friendly countries; two complementary expertises and five entrepreneurs driven by one challenge: to change the way we build", could summarize the reasons for the alliance between the Moroccan firm and the French scale-up. The challenges converge and the talents complement each other. CMC brings its solid business expertise combined with its knowledge of the Moroccan market; Finalcad guarantees the stability of a digital solution, supported by a team capable of ensuring a regional and local deployment in a very short time. Both companies have made digital innovation and business expertise the two pillars of this partnership.
The keys to a successful partnership
The Moroccan firm's history with Finalcad has been multi-layered and multi-stage.
"We started using the application for our own needs, as construction experts. Very quickly, we made our user experience a proof of confidence shared with our customers and Finalcad, by becoming also business contributors", explain Mohamed and Saad. It is their own use of the application, in the Moroccan cultural context, that allows them today to ensure a quality of service in the training and follow-up of the customer relationship. "In addition to answering questions that any new user may have, we share best practices with everyone."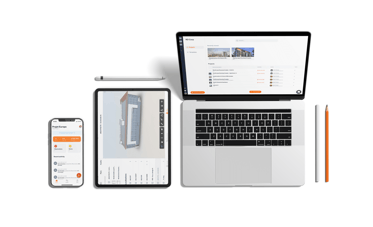 "By becoming Finalcad ambassadors in Morocco, Mohamed and Saad give us an example of the success of an alliance, built on the complementarity of expertise and knowledge of the territory of adoption", explain Finalcad co-founders.
From now on, CMC offers a turnkey Finalcad solution: consulting, configuration, training and personalized follow-up, thus guaranteeing the success of the tool implementation.
The benefit for both partners is twofold: on the one hand, CMC has turned the application into a performance gas pedal for its customers in site monitoring, and on the other hand, Finalcad can serve its customers in Morocco, and benefit from the sharing of experiences with its ally. An ideal duo.
The Moroccan construction industry is undergoing a major transformation.
In 5 years, CMC's teams have supported more than 100 construction sites and 1000 Finalcad users, with quality of service as their watchword.
Among them, customers such as YAMED CAPITAL, SGTM, TGCC, BYMARO, SOGEA MAROC, TOTAL ENERGIES, JASCOM, TGCC IMMOBILIER, PERLA IMMOBILIER... share their testimonies with us:
"You have literally turned us around! At the beginning, we were cautious, before noticing what we could gain on a daily basis: an application adapted to our business, very visual, we don't even need to write... We put our finger on the "+" icon at the top of the screen to add an observation, assign it to a worker and select a processing date. Placing control forms on the plan is also easy and the result is of high quality."
"The application brings me closer to my colleagues on the site. I can follow the progress of my teams remotely by sharing activity reports. Everyone has the right information, in an instant."
"Saad and Mohamed's on-site support reassured me, as I did not have to go through a web platform with long processing times. In case of difficulty, they answer us within a day."
"The success of Finlacad is based on an innate reflex," concludes Mohamed, Associate Director of CMC. "Clients are becoming more proactive. It is starting to click", he continues.
Although the digitalization of the construction industry in Morocco has gradually become a reality, there is still a lot of room for improvement. CMC and Finalcad are continuing their mission with a solution that is ever more complete and close to the needs of the sector, notably through the deployment of Finalcad's latest generation collaborative platform: Finalcad One.
---
Are you looking for tools to digitize your projects and monitor your work sites?

Let's talk about it together:
Don't miss any of our blog posts, follow Finalcad on LinkedIn :
---