What's new in Finalcad Apps?
Finalcad Live Mobile
Project settings and reports
Access all your project settings inside your project.
Now, from the "Settings" button at the bottom of your screen, you can configure your entire project (project collaborators, event categories, job descriptions, etc.).
You will also be able to use the settings menu inside each project to send your Activity Diary to yourself or to whoever you want.
In addition to your Activity Diary, discover 2 new reports that can be viewed and shared from your mobile:
- A summary of all the events of your project in PDF format
- A summary of all the events of your project in Excel format
Tip: These new reports are complementary to the Activity Diary report in PDF.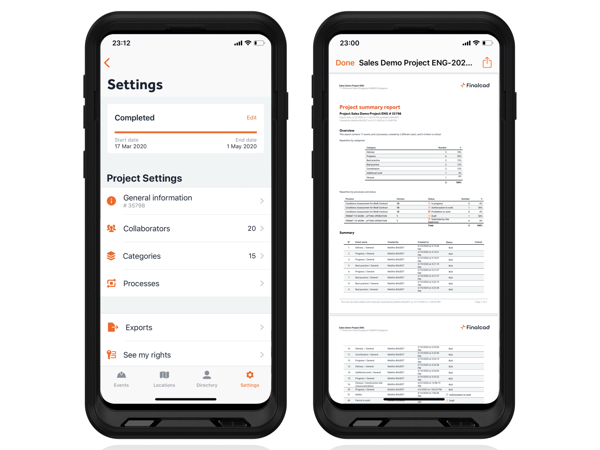 SSO connection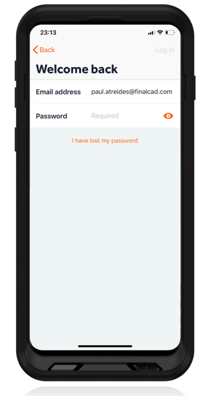 With companies using an increasing number of digital tools, employees are having to memorize a multitude of logins and passwords.
Thanks to Single Sign-On (SSO), your company can enable its teams to use a single login and password for all your company tools.
Simpler, faster, the SSO connection is now accessible in Finalcad Live Mobile.
Notes: The SSO connection is accessible from the Enterprise package.
Finalcad Manager
Project creation in autonomy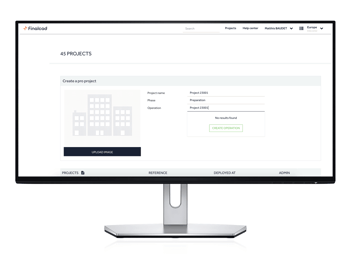 Over the past few months, you have been able to carry out more and more independent actions.
Following on from what was done on Finalcad Mobile, you can now create projects in autonomy from your Finalcad Manager. During creation, the "Operation" field corresponds to the main name of your project.
Tip: Adding plans must currently be done from the mobile app (Essential) or by our team (Evolution, Expert, Enterprise).
Finalcad Mobile
View your personal information
A new button is visible in the top right-hand corner of your Home screen on Finalcad Mobile.
From this button, you can log into your account and thus view your personal information. You will know if you are associated with a paid or free account. In a future update, you will also be able to edit your personal information from this menu.
Tip: To create projects in autonomy, you must log in from this new menu and have a paid account.
Change of rights associated to the critical status of an issue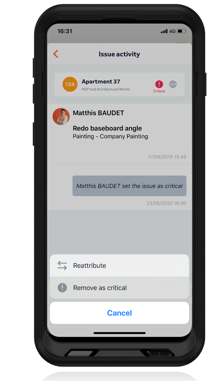 Because some defects must be dealt with as a priority, you have the option of adding a critical status to your issues.
With this new update, this status can only be edited by its author or by a project administrator.