Finalcad was thrilled to take part in Europe's Women in Construction event that took place earlier this month in Amsterdam. The event was hosted by Maddox Events at Rai Conference Centre on December 5-6, and was a great success with about 400 construction professionals attending the conference.
The main objective of this one-of-a-kind gathering was to provide inspiring presentations, skills workshops and insights, mostly conveyed by women, for women. The event was also a great opportunity to expand our network and learn more about industry challenges.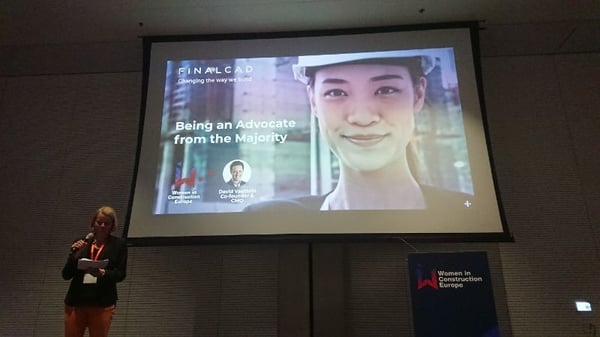 Event Highlights
Many talented guest speakers presented their keynote to the audience, giving us some precious insights about inclusive approach, and specifically gender equality in the construction industry. Most notably, Mrs. Loretta Lipworth, Design Management Trainee and North-West Chair at Wilmott Dixon and NAWIC UK & Ireland, discussed her background in Film and TV Design, and how she eventually switched to Design Management in Construction. She highlighted the fact that when she decided to make this transition, her new company offered her a specific industry training, which facilitated her integration into this new career path. "Now as a Design Management Trainee with Willmott Dixon and through her voluntary work as Regional Chair for NAWIC, Loretta is looking forward to discussing how women, and career changers especially, can forge a meaningful career into construction without the need to 'start all over again'" (Women in Construction, 2018).
"Construction as a career path should have more visibility in schools, family, etc." - Loretta Lipworth, Design Management Trainee and North-West Chair at Wilmott Dixon and NAWIC UK & Ireland
Similarly, Mrs. Laura Stringer, Global Diversity & Inclusion Manager at Hilti Group, also mentioned that her evolution amongst the group was encouraged by internal initiatives to promote gender diversity.
"Employers should look more into skill sets in order to re-include a woman after her maternity leave." - Laura Stringer, Global Diversity & Inclusion Manager at Hilti Group
She believes employers should look into individuals' skill sets before they go on a parental leave, in order to prepare their return in advance. It shouldn't matter if their position was filled by another person, because each employee's return should be planned before their departure to facilitate things and be more inclusive.
Inspiring Women from Finalcad
David Vauthrin, Co-Founder and CMO at Finalcad , was one of the very few men spokesperson during the event. He was there to show how our company is making construction a more attractive industry for women and highlight the work of some amazing female professionals currently working at Finalcad .
Ruth Wijaya
Country Representative
Ruth studied Graphic Design, and worked in the Textile industry for more than 9 years before switching to a freelance consulting job for another 7 years. She found out about Finalcad while working with a construction association in Indonesia. Eventually, when we expanded our activities in Asia, Ruth got on board because she believed in the product and value of the company. She's now a Country Representative responsible for the growth of our activities, mostly across Indonesia and the ASEAN region.
Priscilla Moreira Pirès
Global Account Manager
Priscilla studied Applied Foreign Languages (English, Spanish & Portuguese) as well as Business Engineering, and mostly worked in the Tourism industry before joining Finalcad . She made the transition a bit unexpectedly since she had never worked in the construction industry before, and perceived it as very masculine still. She has now been part of it for 8 years, and is happy to notice that more and more women are coming on board. What she found particularly motivating and challenging is the fact that she could contribute to alleviate her clients' administrative burden and accompany them during their digital transformation.
Tracy Bai
Solution Consulting Manager
Tracy graduated with an Electrical Engineering degree from Hunan University, and worked with China Construction for more than 6 years as a Project Manager and BIM Manager before joining Finalcad. From the moment she stepped into the construction world, she was astonished by the impressive amounts of paper on site and the poor communication between stakeholders. She now works as a Solution Consultant to help our clients accelerate their digital transformation and find the best way do digitize their business processes.
Camille Kleszcz
Global Account Manager
Camille studied Structural Engineering in her home country, France, and then expanded her horizons by undertaking a Master's degree in Management & Strategy at ESSEC Singapore. She then worked as a Site Supervisor for a few years in South East Asia, and discovered Finalcad while working in the field. She quickly became a convinced user of the solution due to the time and quality benefits she was experiencing in her day-to-day job. She has since joined our team as a Global Account Manager and works helping international contractors finding new ways to improve their construction management via our mobile solution.